The Truman Alumni Association is proud to offer group travel programs that allow alumni, friends and other members of the Truman family to explore the world together. Make your plans now and book early to guarantee your spot.
Upcoming Travel Program
California Rail Discovery

Featuring San Francisco, Lake Tahoe & the Napa Valley Wine Train
June 10-16, 2020
Join us for a spectacular seven day journey through Northern California on the California Rail Discovery. This trip includes two rail journeys, two cruise experiences, a winery tour and tasting and much more. Pricing, including airfare, is $3,375 per person (double occupancy) and includes lodging, 9 meals, transportation, admission on excursion, hotel transfers and baggage handling.
---
Previous Travel Program
Rhine River Cruise (2019)
The 2019 Alumni trip was an 8 day/7 night journey down the Rhine River with stops in Switzerland, Germany, France and the Netherlands. The river cruise through the heart of Europe included shore excursions through Germany's Black Forest, a tour of the Cathedral at Strasbourg, France, Heidelberg Castle, a tour of the windmills in Kinderdijk and many more unforgettable memories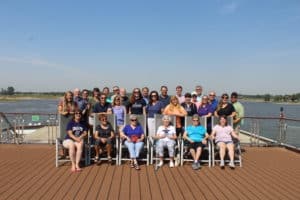 .
---
For More Information
Have suggestions for future trips…let us know where you would like to go.
To request general information about Truman's Alumni & Friends Travel Program, contact Truman State University's Office of Advancement, (660) 785-4133, bulldogforever@truman.edu.