Bulldog Legacy Scholarship
New students—first-year and transfers—who are admitted to Truman and have a parent or step-parent who earned a degree from Truman State University will automatically be awarded a Bulldog Legacy Scholarship—$1,000 for Missouri students and $2,000 for out-of-state students.
For more information, see our Automatic Scholarships information.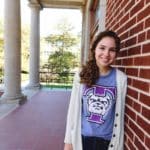 Truman is a supportive and personal community. At Truman, you can count on the fact that your professors will know your name, say "hi" to you on campus, ask about life, and go out of their way to help with everything from research to internships to studying abroad.