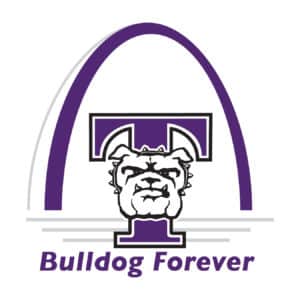 Just a few hours away from Kirksville is the largest population of Truman alumni! The St. Louis Alumni Chapter offers a variety of events that emphasize fun, local culture, and of course, supporting Truman!
You'll be surprised to find how many connections Truman has with the city. The St. Louis Alumni Chapter frequents both Bulldog and professional athletic events. Participating in Bulldog community in St. Louis will definitely help you feel more at home!
2019 Chapter Events:
January 27: Prospective Student Event
March: TruCare Service Event
April: Bulldogs DIY Craft Event
May: Arch and Downtown Architectural Tour
June: St. Louis Cardinals vs. Chicago Cubs Baseball Game
August: New Student Send-Off Event
September: Wine Tasting Tour
October 4: National Truman Spirit Day Event
October: Bellefontaine Cemetery and Arboretum Tour
Chapter Leadership:
Nick Ponche ('07), President
Julia Price ('14), Vice President
Christopher McKinney ('06), Treasurer
Phillip Campbell ('06), Alumni Board Representative
Jason Turk ('06), Executive Board
Lisa (Buckley) Marty ('10), Executive Board and Alumni Board Representative 
Suzanne O'Mara ('08), Executive Board
Amanda Bryan ('10), Secretary
For more information, please contact the Office of Advancement at 800.452.6678.
The Chapter is looking for more volunteers! Please contact Truman's Office of Advancement at 800-452-6678 for more information or complete the online Volunteer Application.
The best part of being part of an alumni chapter is the ability to take Truman with you. You're consistently meeting new people from all walks of life and careers, allowing you to continuously build your network.