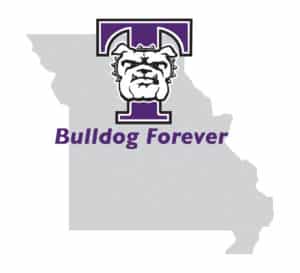 If you live near the Kirksville area, the Northeast Missouri Alumni Chapter is for you! Joining the Chapter is an opportunity to experience a wide variety of events such as local theater and other social gatherings. Members also get free admission to most Truman sports events. Members give back to the University by participating in the annual Scholarship Scramble Golf Tournament at the Kirksville Country Club, inviting students and parents to the Future Alumni Welcome, and supporting local events.
Every year the Northeast Missouri Alumni Chapter holds their fall banquet and the evening ends with a live auction to support the chapter's scholarship fund. The banquet also features the presentation of the Northeast Missouri Alumni Chapter Bulldog Forever Award. This award is presented to chapter members who demonstrate their dedication and support for both the Chapter and the University (the NEMO Chapter won the award in 2016!).
Join the Chapter today and become an active member of the Bulldog Community!
2019 Chapter Events:
January 19: Bulldog Basketball Bash
March: Gold Medal Concert
May: Graduation Picnic
August: New Student Welcome
September: Volleyball Game and Dinner
October: Football Game Tailgate
November: Fall Banquet
December: Graduation Pizza Party
Chapter Leadership:
Don Bindner ('92), President 
Susan (LaGrassa) Scheurer ('87, '89), Vice President
Michelle Mollick ('95), Treasurer
John Nash ('11), Secretary and Alumni Board Representative 
JoAnn Jackson, Social Media Manager
Kathy (Chandler) Erwin ('71, '76), Membership Coordinator
Jeanne (Jones) Harding ('92), Social Chair
Marianna Giovannini ('64, '67), Executive Board
Donna Bailey ('76, '84), Executive Board
Mary (Vogt) McIntosh ('91), Executive Board
Corey Luebbering ('16), Executive Board
For more information, please contact the Office of Advancement at 800.452.6678.
The Chapter is looking for more volunteers! Please contact Truman's Office of Advancement at 800-452-6678 for more information or complete the online Volunteer Application.
Our alumni chapters are full of men and women who have been through Truman and have been where you have. They are the best people to get acquainted with, especially in a new area. They are also some pretty amazing people you will want to know!