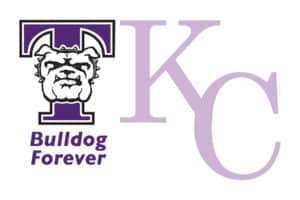 The Kansas City Alumni Chapter is an active one. Whether we're welcoming students at our annual Student Send-Off, hitting the course for the Golf Fore Scholarships tournament, or checking out a local brewery you can bet we're always keeping busy!
If you're new to the area or just miss your days at Truman, you've come to the right place. While we're always ready to go out and explore the KC metro area, part of our hearts are still in good ol' Kirksville. Discover new things to do in KC while enjoying the company of your fellow Bulldogs!
2019 Chapter Events:
February: Communication Students Networking Event
February: Trivia Night
March: TruCare Event
June: Golf Tournament
July: Sporting KC Game
August: Royals vs. Cardinals Game
August: Student Send-Off
November: End-of-Year Social
Chapter Leadership:
Angela Crawford ('08), President
Hope (Slaby) Harms ('07), Vice President & Alumni Board Representative
Nate White ('10, '11), Treasurer
JoEllen (Flanagan) Engelbart ('11), Secretary, Service Events Chair, End of Year Banquet Chair

Ashley Burden ('06), Social Events Chair
Alison Mayer ('05), Professional Athletics Events Chair
Jacob Funke ('10), Incoming Student Events Chair
Caleb Russell ('11), Golf Tournament Chair
Chris Wiedmeyer ('96),  Scholarship Committee Chair
For more information, please contact the Office of Advancement at 800.452.6678.
The Chapter is looking for more volunteers! Please contact Truman's Office of Advancement at 800-452-6678 for more information or complete the online Volunteer Application.
After graduation I moved to a new metro area. Connecting with other alumni in the Kansas City area has helped me discover some of the city's best places for entertainment, shopping, dining and exploring. Joining the alumni chapter and participating in various events has been great because our Truman experience is an instant ice breaker.