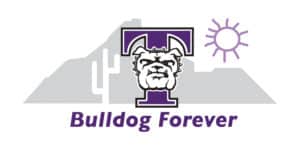 The Arizona Alumni Chapter is unlike any other. Members consist of recent grads looking for a new adventure, families enjoying the desert heat, and snowbirds trying to flee the harsh Missouri winters!
The Chapter events are unique and catered to people of all ages and interests. Hike up Camelback, meet up for lunch and great conversation, or join one of the new exciting events being planned!
Find everything you loved about the Midwest out in the Arizona desert! There's a Bulldog community waiting to make you feel at home, no matter how many miles we are from Kirksville.
2019 Chapter Events:
January 12: Bird Watching Event
February 2: Bulldog Alumni & Snowbirds Reunion
February 23: Annual Ronza Party
March 2: TruCare Event – Pack Food at Feed My Starving Children
March 27: TruCare Event – Cook Dinner at the Ronald McDonald House
April 6: Sky Diving Bulldogs
May 4: Adopt a Street – Service Project
June 1: TruBrew – Old Pueblo Brewery Tour
July: Arizona Student Send-Off
August 13: Are You Smarter Than A Sun Devil? Trivia Night
September 19: Football & Tailgate Party in Flagstaff
October 4: National Truman Spirit Day
October: Making Strides 2019 – Fundraiser Walk for Cancer Research
November 14: TruCafe at the Village Coffee Roastery
December 6: First Friday Art Walk on Roosevelt Row
Chapter Leadership:
Vid Vidyasagara ('92), President
Kelly Horn ('94, '96), Vice President 
Douglas Zahnd ('97), Treasurer
Jamie Matthews ('08), Alumni Board Representative
Mike Whitney ('94), Executive Board
Nikki Knoth, Secretary 
For more information, please contact the Office of Advancement at 800.452.6678.
The Chapter is looking for more volunteers! Please contact Truman's Office of Advancement at 800-452-6678 for more information or complete the online Volunteer Application.