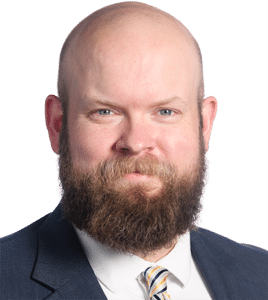 Dustin Carmack ('08)
Dustin Carmack is a 2008 Truman graduate with a degree in political science. He also studied as a Rotary Ambassadorial Scholar at Tel Aviv University in Israel where he pursued a Masters in Middle Eastern History, Hebrew, and Arabic. Dustin currently works as a Research Fellow in the Center for Technology Policy at The Heritage Foundation. Dustin studies and writes about evolving domestic and international technology trends, "Big Tech," national security and intelligence issues.
Before joining Heritage, Dustin worked at the Office of the Director of National Intelligence (ODNI) as Chief of Staff for the Director of National Intelligence, where he worked on cybersecurity and the continuing impact of the SolarWinds breach, space-based technology and intelligence threats, election security threats, IC ethics of artificial intelligence principles and framework, response from the IC to COVID-19 and the strategic national security threat of China, among other issues.
He earned the Director of National Intelligence's Distinguished Service Award for outstanding service and exceptional contribution to the mission of the Office of the Director of National Intelligence. In addition, he was a 2019 Class Lincoln Fellow at the Claremont Institute.
He and his wife, Hannah, live in Alexandria, Virginia. They have a golden retriever, Lou, and a cat, Fitz. They enjoy traveling, hiking/exploring the area, and competitive weekly trivia at a local watering hole with good friends. Originally from Moberly, Missouri, Dustin was a part of the Truman State football team and Blue Key.