Truman Partners with Publishing Concepts Inc. for Alumni Directory
The Truman State University Alumni Association has partnered with Publishing Concepts, Inc. (PCI) to produce an alumni directory. Over the next few months, PCI will be contacting Truman alumni via mail, phone and email to update your alumni information.
Truman maintains the highest privacy standards, so we wanted to assure you that your information has not been sold and the requests for updates come from a legitimate partner of Truman State University.
When you are contacted by PCI, you can update your information and indicate whether or not you'd like to be included in the upcoming alumni directory.
Sample Postcard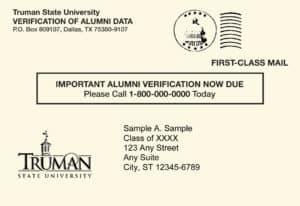 Frequently Asked Questions
---
For more information
To contact PCI's customer service desk, call 1-800-982-1590.
To contact Truman State University, call the Advancement Office at 660-785-4133 or 800-452-6678, or email bulldogforever@truman.edu.