Keith Epperson ('82)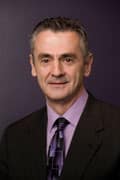 Keith Epperson ('82) is chief actuary for Bright Health Insurance Company. Prior to his current position, Epperson was a principle and chief actuary for Savvysherpa, Inc. His prior experience also includes working for UnitedHealthcare in various capacities, including vice president and chief actuary individual medical, vice president/research and development and director of medical underwriting services.
A member of the class of 1982, Epperson received a Bachelor of Science degree in mathematics and statistics from Truman. As a student, he was involved with Kappa Mu Epsilon, a professional math fraternity, and Alpha Kappa Lambda, a social fraternity.
Epperson serves as president of the Truman Alumni Board of Directors, is a past president of the Truman State University Iowa Alumni Chapter, and he is a member of the Society of Actuaries and the American Academy of Actuaries. He and his wife, Rhonda, have three children and four grandchildren and they reside in Plymouth, Minn.