Adam Childers-Arnold, Student Representative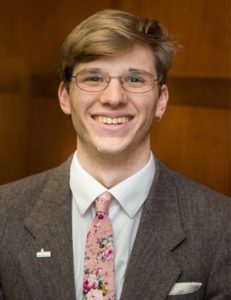 Adam is a junior political science and international relations major at Truman State University. Following in the footsteps of his grandfather, Victor Childers, who was a 1955 graduate of the University, Adam has come to love Truman State University.
Adam was born and raised in Indianapolis, Ind., where he developed a love of history, politics, and motor racing. Coming to Truman, Adam became heavily involved in student political organizations at the University and at state-wide levels, as well as serving for a year on Student Government.
During his first year at Truman, Adam began working for Alumni Director Denise Smith as an intern in the Office of Advancement where he began his involvement with the Alumni Board. In addition to his work in the Advancement Office, Adam worked as a student advisor for the Department for Residence Life and is currently interning in the Missouri State Senate in Jefferson City, Mo.
After graduation, Adam plans to pursue a dual degree in law and public administration.