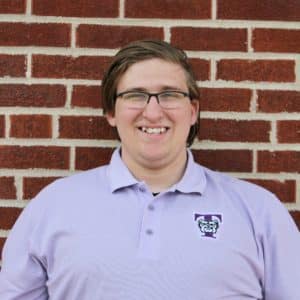 Freshman, May 2021
Major: Biology
Hometown: Kirksville, MO
High School: Knox County R-1 High School
---
Why did you choose Truman?
I chose Truman for a variety of reasons. It is very close to home, which was very appealing to me. I also chose it because it has such a great community. It really feels like a home to me.
Why did you choose your major?
When I was younger, I was diagnosed with a genetic condition. This sparked my interest in Biology and made me want to help people. This is why I included the pre-medicine concentration.
Now that you are a student, what do you like most about being a Truman student?
The community on campus is amazing. I have not once felt out of place while being here. I feel truly accepted.
What piece of advice would you give to first-year students?
Always try and get some sleep. It is super hard to do well without sleeping. It may seem easy at first, but it quickly builds up.
What is your best or favorite experience of your first year at Truman?
My favorite experience has been participating in Humans vs. Zombies. It is a week long event that has allowed me to meet some amazing people.
What is your favorite thing about living in Kirksville?
I love Kirksville. Being from the Kirksville area makes me a little biased, but I have always loved Kirksville.
Meet Other Orientation Leaders