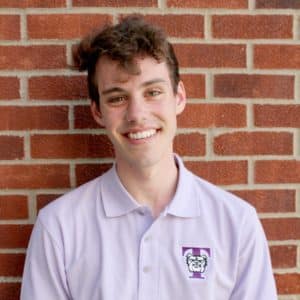 Senior, August 2018
Major: English
Hometown: St. Louis, MO
High School: Kirkwood High School
---
Why did you choose Truman?
Full disclosure: I never thought I'd end up at Truman. Even when I decided to come here, I never thought I would treasure my time here, my friendships and experiences, as much as I do. I originally chose Truman based almost solely on affordability; I'd heard student loan horror stories and knew I wanted to avoid taking them out as long as I could. Deciding on Truman was an impulsive choice–and a somewhat reluctant one–yet here I am, choosing to be an Orientation Leader in order to share my love for this place with you. Kirksville, MO and Truman State University have become my home. If you're certain that Truman is where you belong, I encourage you to hold onto that, to stay centered in everything which first sparked your interest. And if you're not sure whether or not you've made the right choice, I have some hope for you: you might just find an unexpected home here like me.
Why did you choose your major?
Originally, I was a psychology major. This was rooted in two unfocused passions: I knew I loved learning about people, and I knew I loved helping people. But then my junior year, after taking an English LSP course, I realized I could help people and learn about the human experience in a more nuanced, rich sense as an English major. I kept psychology as a minor and switched easily to an English degree. I also realized most graduate schools didn't care what my undergraduate degree was so long as I had earned one. Next fall, I'm going to seminary with a full ride, largely thanks to the rigor and excellence of my coursework at Truman.
Now that you are a student, what do you like most about being a Truman student?
I love the people here. There's a kind quality about everyone that I've appreciated and benefited from immensely the past four years.
What piece of advice would you give to first-year students?
Leave your room. Get out into your floor's lounge, go to that campus event, go to organizational meetings that interest you–go alone; part of being an adult is learning how to put yourself out there in social settings when you are totally, completely alone. You will not click with everyone you first meet, and that's okay. Just make sure you leave your room. A mentor once told me that anybody can find a best friend and a home if they expose themselves to enough strange people and strange situations.
What is your best or favorite experience of your first year at Truman?
I loved that first month with my floor. Our Student Advisors, Truman's "RA" equivalent, were extraordinary and had events every week. TCBY runs, yoga in the lounge, regular movie nights. I (definitely) didn't immediately click with everybody, but through exposure and necessity, we sort of became a family. Everybody had depth to discover beyond those first impressions, with interesting backgrounds, stories, and passions to share. And everyone gradually started to have a role: the people always ready to listen, the people always planning movie nights and Sonic runs, the people always willing to help out when you needed them, and the people who were just hilarious. Even though it's important to find community in many places on campus (especially with people who share your passions and interests), I still think there can be something magical about floor communities, if everyone invests themselves enough.
What is your favorite thing about living in Kirksville?
I have come to love the size. 1) I've saved a lot of money without so many venues and options for spending. 2) As a senior, it's really incredible to drive around Kirksville and realize I've got incredible memories in almost every location on and off campus.
Meet Other Orientation Leaders