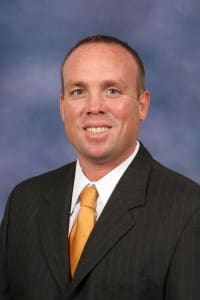 Board of Governors
Truman State University
Mike LaBeth, Kirksville, Mo.
Mike LaBeth is a real estate broker and the owner of Heritage House Realty, Inc. His previous work experience includes Mark Twain Mental Health Services and the Bruce Normile Juvenile Justice Center, both in Kirksville.
An active member of the community, LaBeth currently serves as a Planning and Zoning Commissioner and as an Alternate Route 63 Safety Commissioner. He has been involved with the Adair County YMCA, the Kirksville Baseball and Softball Association (KBSA) and the Kirksville Area Chamber of Commerce, for which he served as vice president in 2009 and president in 2010. A member of the Kirksville Young Professionals Organization, LaBeth received its Top Five Under 40 Award in 2011.
A graduate of William Jewell College in Liberty, Missouri, he earned a Bachelor of Arts degree in communications in 1998.
LaBeth was appointed to the Board of Governors in January 2013.