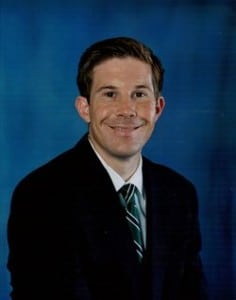 Board of Governors
Truman State University
Jim O'Donnell, Hannibal, Mo.

Jim O'Donnell is a fifth generation licensed funeral director and embalmer and serves as president of the James O'Donnell Funeral Home in Hannibal, Missouri. He has an Associate of Arts degree from Hannibal LaGrange College and received a Bachelor of Science degree in History from Truman in 1998. He also has an Associate of Mortuary Science degree from Kansas City, Kansas Community College.
While attending Truman, O'Donnell was a member of the Men's Basketball Team, serving as team captain his senior year and earning MIAA All Conference recognition in 1997 and 1998. Academically, O'Donnell was selected to the MIAA Commissioner's Honor Roll both his junior and senior seasons. Upon graduation, O'Donnell continued graduate studies at Truman and served as a Graduate Assistant Coach with the Men's Basketball Team. That season the 1998-99 Bulldogs had one of the greatest seasons in the 82-year history of Men's Basketball at Truman. The team finished with a 26-7 record and won the conference and South Central regional tournaments. To top it all off, the Bulldogs advanced to the NCAA Division II semifinals, one game away from playing for the national championship. The 'Dogs finished the season ranked #3 in the nation.
Upon the completion of the 1999 season, O'Donnell accepted a position with the North Carolina State Athletic Department, working in the Athletic Ticket Office and with the Wolfpack Club. After one season with the Wolfpack, O'Donnell returned home to Missouri to join the family business.
Additionally, he is an active member of the Hannibal Park Board, Hannibal Arts Council Board, Farmers and Merchants Bank and Trust Company Advisory Board, Early Bird Kiwanis, Hannibal Elks Lodge, Hannibal Knights of Columbus Council #907 and Holy Family Catholic Church. He is a past member of the board of directors for the Hannibal YMCA and the Hannibal Area Chamber of Commerce.
O'Donnell was appointed to the Board of Governors in March 2012.