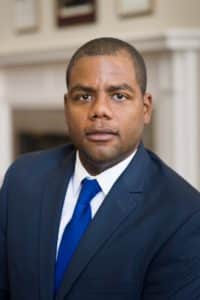 Board of Governors
Truman State University
David Lee Bonner, Chicago, Illinois
Out-of-State Member

David Bonner is Deputy General Counsel for Labor and Employment at the Illinois Department of Human Services.  Bonner joined IDHS from the Cook County Assessor's Office and continues to serve as a Judge Advocate in the U. S. Army Reserve.  He has worked on government labor and employment issues as Legal Counsel to Cook County Assessor Fritz Kaegi, as an Assistant State Attorney for the Cook County State's Attorney's Office, and as an Assistant Attorney General in the Illinois Attorney General's Office.  In 2017, Bonner served as an assistant legal advisor in the office of the Army Inspector General at the Pentagon in Washington, D.C.
Bonner graduated cum laude from Truman in 2007 and earned his juris doctor from the University of Wisconsin Law School in Madison.  Bonner was appointed to the Board of Governors in January 2013.