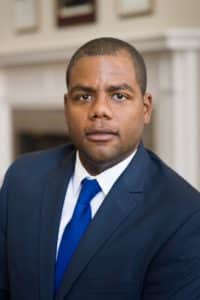 Board of Governors
Truman State University
David Lee Bonner, Chicago, Illinois
Out-of-State Member

David Lee Bonner serves as a legal officer and administrative law attorney in the Office of The Inspector General, Headquarters Department of the Army at the Pentagon. He is on a leave of absence from the State Attorney's office in Cook County, Chicago. Additionally, Bonner is a member of the Chicago Bar Association and serves on the Elections Law Committee.
Before joining the Cook County office, Bonner served as an assistant attorney general with the Illinois Attorney General's Office where he served in the Civil Trails and Prosecutions unit. Prior to that appointment, he clerked for the Chicago Corporation Counsel in the Bureau of License Enforcement and served as the Director of Field Operations in Illinois' Tenth Congressional District. Bonner is licensed to practice law in Wisconsin and Illinois.
Bonner graduated cum laude from Truman in 2007 and earned his juris doctor in 2010 from the University of Wisconsin Law School in Madison.
Bonner was appointed to the Board of Governors in January 2013.