Council of Public Liberal Arts Colleges
Truman State University is a proud member of the Council of Public Liberal Arts Colleges (COPLAC), an organization of publicly funded colleges with a strong dedication to the liberal arts.
COPLAC members must show:
a focus on sustaining a high-quality relations between students and faculty
selective admissions
recognition of cultural and intellectual diversity
a commitment to high-quality liberal arts education for those who may not achieve it otherwise
Membership also requires evidence of the college's dedication in its mission statement, curricular requirements, resource allocations and faculty hiring, promotion and tenure policies.
Truman State University has been a member since 1988.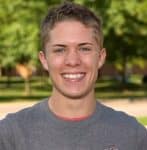 The care and concern that my professors have for their students is the best part of classes here. They come to class every day truly excited to teach their subject.