Campus Housing
value in the nation among public colleges & universities (Consumers Digest 2015)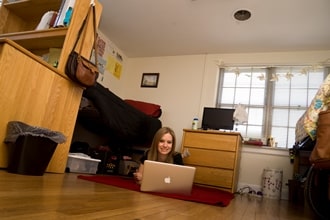 On-Campus Housing
Learning at Truman extends into our residence halls and the University's apartment complexes, which are home away from home for a majority of our students like you. Each staff member in Residence Life is here to assist you with everything from how to do laundry to class selection. Each residence hall is led by a professional staff member to provide you with an excellent living-learning experience.
All on-campus housing comes with:
Wired and wireless Internet
Computer labs or workstations in hall or nearby
Common-area kitchen facilities
Vending areas
Laundry rooms
Cable access
Living Learning Communities within the Residence Halls
One way you can find a niche within a group of students who have similar academic pursuits or similar interests is by living in one of several Living Learning Communities (LLCs), which are designated areas within the residence halls. Some options include the Romance Language house, service, pre-med, sustainability, and a transfer student community.