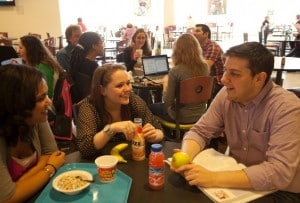 Mainstreet Market
LOCATION: Student Union Building
Mainstreet Market is a collection of dining options all under one roof.  This food-court area offers a variety of options including Original Burger, Godfather's Pizza, and Theme Cuisine with a rotating menu of national and international menu items. Located in the heart of campus, Mainstreet Market provides a place where you can gather with friends and enjoy a casual lunch or where busy students can a grab a bite to eat on the run.
Jazzman's Café & Bakery
TWO LOCATIONS: Student Union Building & Pickler Memorial Library
Smooth, rich, coffee and artful baked goods set the stage at Jazzman's Cafe & Bakery, a coffee specialty shop which has two locations on campus. Get in the groove with your favorite specialty coffee beverage. Then find the perfect accompaniment by indulging in pastries, cookies or muffins.
Freshëns Smoothie Company
LOCATION: Student Union Building
Freshens offers premium yogurt and all-natural fresh blended smoothies—an irresistible draw. With a selection of fat-free and no-sugar-added flavors, you can choose from more than 30 premium flavors rotated seasonally.