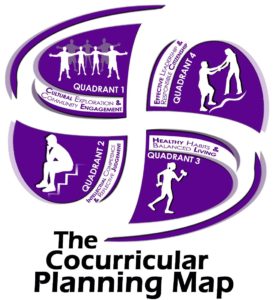 The Cocurricular Planning Map is a tool to help students make informed and intentional decisions about their out-of-class activities while at Truman State University.
The Planning Map consists of four quadrants that represent areas students can use to set goals regarding their out-of-class activities to maximize the benefits of their Truman educational experience. The quadrants are based on values and principles espoused in the University's Mission Statement, skills and knowledge of value to future employers and graduate schools, and needs and attributes of college-aged students identified by various theories of development.
Sample Activities for Each Quadrant
You can use long-term goals and some shorter-term activities to help achieve the goals in each quadrant area. The sample goals and activities listed below provide some examples, but your own goals and activities may vary greatly. The object of the Cocurricular Planning Map is not to establish the perfect goals but to get you to think about and plan your out-of-class activities.v
Quadrant 1: Cultural Exploration and Community Engagement
Long-term Goal:  A Philosophy and Religion major wants to become a youth minister.  He recognizes a need to improve his communication skills and his understanding of others.
Sample Out-of-class Activities:
He attends an active listening presentation in his Residential College.
He works on being more open to the spiritual beliefs of others by attending the activities of a variety of religious groups on campus.
He joins the Residential Living mediation group and gains experience mediating disputes between roommates.
He participates in weekly study sessions with his denomination's student organization.
He accepts an internship working as a camp counselor with an organization that sponsors summer camps for Christian youth groups.
Quadrant 2: Intellectual Competence and Reflective and Judgment
Long-term Goal:  A Biology major hopes to go to graduate school in environmental science.
Sample Out-of-class Activities:
She joins the campus chapter of Green Peace to learn more about  environmental issues.
She addresses her math anxiety issues by attending sessions at University Counseling Services.
She completes her scholarship work hours assisting a professor who is engaged in environmental science research.
To develop habits consistent with her values, she becomes familiar with the campus recycling program and recycles whenever possible.
She becomes a McNair Scholar and conducts original research on an Environmental topic under the guidance of a faculty member.
Quadrant 3: Healthy Habits and Balanced Living

Long-term Goal:  A first year student wants to become a more outgoing and socially competent person before graduation.
Sample Out-of-Class Activities:
He attends an athletic event and a cultural event each month to meet new people and to generate topics for interpersonal conversation.
He volunteers as a math tutor.
He joins a social Greek organization to practice his social skills.
He participates in Study Abroad to challenge himself socially.
He runs for a Student Senate Office.
Quadrant 4: Effective Leadership and Responsible Citizenship
Long-term Goals:  A political science major whose vision is to become a prosecuting attorney wants to learn more about citizenship.

Sample Out-of-class Activities:
She volunteers to participate on the Residential Living Judicial Board.
She joins the College Democrat organization.
She chairs a committee to register students to vote.
She completes an internship with the Department of Corrections.
She participates in the Model United Nations program.