Students Give New Life to Old Products
From turning a broken chair into an end table to making knick knack shelves from a pair of crutches, an environmental health class discovered creative ideas for recycling old items.
By Marina Fanning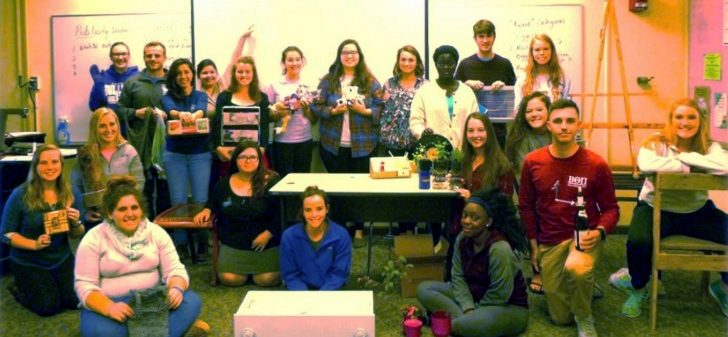 Janice Clark, professor of health science at Truman State University, encourages her students to think about National Recycling Day a little bit more than the average college student. Every fall in Clark's HLTH 362 course, students are challenged with a "Second Life Project." As part of Clark's curriculum for the environmental health class, students not only give a second life to old products but also construct a paper to fully analyze the impact the project can make. "The Second Life Project is my original idea for a class project, and it's been on the HLTH 362 schedule of course activities for the past five or more years," Clark said. There are no restrictions for what products the students can use except for the minimal use of brand new products.
In addition to being part of the students' grades, the second life products students created were displayed in the Student Union Building so the campus community could vote for their favorite second-life products. Three different categories were selected by Clark and her class, and about 75 participants voted with the following results: Madeline Thomas, "Most Creative" for her crocheted lunch bag; Clarice Schmid, "Biggest Change from First to Second Life" for her crutches knick knack shelves; and a tie for "Most Useful Item" for Emmy Fry's bottle opener and Carly Reeve's wood pallet end table.
Thomas was surprised to receive the "Most Creative" award for her crocheted lunch bag which was made from plastic bags that she turned into plastic yarn. The total project took Thomas around four hours to make. "The biggest challenge was working with the plastic yarn," said Thomas.
The bottle opener, which won the "Most Useful" category, held a special meaning for it's creator. Fry, who used wood from a thick fence at her aunt's cabin in Colorado that had fallen over during a storm, created the bottle opener to give at her family's Secret Santa DIY-style exchange during the holiday season. The gift was for her uncle who had endured many surgeries at the time, making it difficult to travel to Colorado for the holidays. Fry wanted to create something special for her uncle that would also bring a piece of Colorado to him as well. To this day, Fry's uncle displays his secret Santa gift on his desk. As an added bonus, between cutting and staining the wood, Fry learned a couple of new skills.
Besides the time it took to create to create their products, students participated on planning committees to prepare for Recycling Week Activities to celebrate the environment and National Recycling Day. These committees included Planned Activities, Logistics, Recruitment, Publicity, and Events. On Nov. 16, 2016, Assistant Professor of Biology Ben Wodika was invited to speak about the Truman composting project and how even students could create their own home composting system. The following day Health Science senior Sydney Gosik explained clothing upcycling and other issues occurring in the fast clothing industry, specifically the waste produced from customers buying cheap clothing and getting rid of the piece when the season ends. Other activities included Katie Tauchert, a senior health science student, teaching students the process to make cats toys from t-shirts that were given to a no-cage shelter in Chicago.
Many students were surprised by the impact the class made on them. Fry said, "I believe everyone in our class learned a valuable lesson, not only from this project, but about environmental health in general."