Regardless of the major you pursue, every undergraduate student at Truman engages in a broad scope of inquiry through our Liberal Studies Program, the foundation of Truman's well-rounded education. Instead of training for one narrow career path, you study a wide range of ideas and perspectives so you are well-equipped to succeed in a rapidly changing world.
Essential Skills
Writing as Critical Thinking (ENG 190)


---

Public Speaking (COMM 170)


---

Precalculus (MATH 186)
OR
College Algebra (MATH 156) & Plane Trigonometry (MATH 157)


---

Basic Statistics (STAT 190)
OR
Statistics (STAT 290)


---

Lifetime Health and Fitness (HLTH 195) & Lifetime Physical Activities (HLTH 196)
OR
Lifetime Health and Fitness (HLTH 198) & Personal Fitness Lab (HLTH 198L)
OR
Intro to Military Science I (MS 100) & Intro to Military Science II (MS 101)


---
Qualitative Modes (Complete 3 of 4)
Aesthetic: Visual & Performing Arts
Aesthetic: Literature
Historical
Philosophical/Religious
Quantitative Modes (Complete 3 of 4)
Mathematical
Scientific: Life Science
Scientific: Physical Science
Social Scientific
Interconnecting Perspectives
Truman Week (INDV 101)
Junior Interdisciplinary Seminar (JINS)
Intercultural Perspective
Elementary Foreign Language Proficiency
Major Program Requirements
Complete a Major Field of Study
To view the degree requirements for a specific major, look at the Academic Programs section in our Course Catalog. Truman also offers more than four dozen minor fields of study to supplement your major (you are not required to have a minor).
---
Additional Degree Requirements
Bachelor of Arts (BA)
Bachelor of Fine Arts (BFA)
Bachelor of Music (BM)
Intermediate Foreign Language Proficiency
Missouri Statute Course
Two Writing-Enhanced Courses
Bachelor of Science (BS)
Bachelor of Science in Nursing (BSN)
Additional math and science-based courses (minimum 6 semester hours)
Missouri Statute Course
Two Writing-Enhanced Courses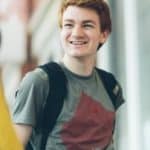 I chose Truman because of the affordability and its academic reputation. I looked at other schools, both public and private, and discovered that Truman is on par academically with so many universities but for a fraction of the cost. I knew that I wanted a stellar education but didn't want to graduate with thousands of dollars in debt, so Truman fit that mold perfectly.