Theatre Quick Facts
Public university in the Midwest for 18 years running (U.S. News & World Report)
Our mainstage production space, the James G. Severns Theatre, is a 240 seat state-of-the art courtyard theater with stage and seating that can be easily moved to create thrust or proscenium style settings.
Our Black Box Theater is fully equipped with a lighting grid and booth
Other facilities include a scene shop, costume shop, acting lab, design lab, dressing rooms, make-up room, and a green room.
All our recent graduates of the past six years are currently employed.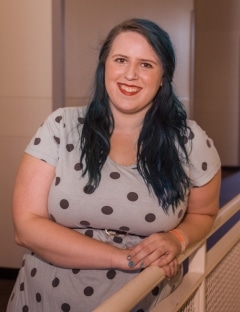 "I enjoy how hands-on the classes are and how I'm learning about a variety of different professions in theatre. It helps me explore my options, and as a designer, it can help me understand how other design aspects work."
– Sydney S., Theatre Major