Pursuing a Passion for Theatre
School of Arts & Letters: Department of Theatre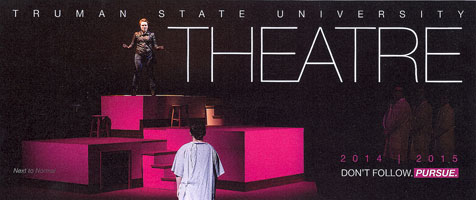 The theatre program at Truman emphasizes practical experience at every level of production. We offer students transformative experiences; students perform, design, direct, choreograph, construct, circuit, paint, sew, write plays, research and teach. Our casts include students from all disciplines, from freshmen to seniors.
Recent Student Research
The Door
A New Musical
(Based on a story by H.P. Lovecraft)
By Ann Acklen Brown (Junior) and Carter Datz (Senior)
Faculty Mentors: Assistant Professor David Charles Goyette and Dr. Charles Gran Funded by: An Interdisciplinary Research Community Grant, Summer 2015, Grants-in-Aid of Scholarship and Research

Slamming By Consent
An Original Poetry Slam on Sexual Assault
By Madison Chambers and Friends
Faculty Mentor: Dr. Dana Smith

On Broadway With Deaf West:
A Stage Manager's Perspective of  Spring Awakening
Broadway Revival, Deaf West Productions, by Seth Betzler
Faculty Mentor: Dr. Dana Smith
Long-Term Career Options
In every area of study and practical training, we demand research, independent analysis,
critical thinking, and a high degree of on-the-spot problem-solving.
About 35-40% of Truman Theatre graduates work in the professional theatre right out of college.
About 30% of Truman Theatre graduates from the last ten years are currently in graduate theatre programs.
About 30% of Truman Theatre graduates enter other professions, such as education, law, marketing, medicine, counseling, electrical maintenance, personnel consulting, publications, and small business management.
Truman Theatre graduates find that they have more options open to them than most other majors; studies in the Theatre Department are intensively people-oriented and driven by imagination and creativity.
Truman Theatre graduates have worked and studied at such prestigious institutions as:

The American Shakespeare Center in Washington, D.C.
The Arena Stage in Washington, D.C.
The American Repertory Theatre in Cambridge, MA
The American Theatre Company in Chicago
Actors Theatre of Louisville
Kentucky Shakespeare Festival
Walt Disney World
St. Louis Shakespeare Festival
Colorado Shakespeare Festival
Chicago Shakespeare Theatre
Blue Man Group
The MUNY in St. Louis
Second City in Chicago
The Goodman Theatre in Chicago
The Steppenwolf Theatre in Chicago
Facilities
James G. Severns Theatre 240-seat state-of-the art courtyard theater with stage and seating that can be easily moved to create thrust or proscenium-style settings
Black Box Theater
Fully equipped with a lighting grid and booth
Scene Shop
Costume Shop
Acting Lab
Design Lab
Dressing Rooms
Make-up Room
Green Room
Work Experience
There are several opportunities to work with the faculty outside of the normal classroom or production situations through Work-Study, Scholarship Service or Student Employment.
Openings in the past have included:
Internships in scenery, costuming, and sound
Publicity/Promotions
House Management
Office Workers
Script Librarians
Technical Internships in Baldwin Auditorium, serving Truman's outstanding Kohlenberg Lyceum series, and guests such as:

The Guthrie Theatre
The American Shakespeare Center
The Kansas City Philharmonic
Ballets Africains
The Golden Dragon Acrobats