Pursuing Statistics


Discover the Hidden Patterns of the World Around You



---
School of Science and Mathematics: Department of Statistics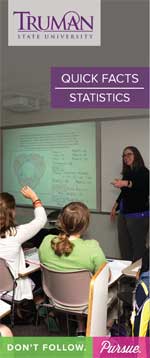 Be engaged by a challenging curriculum, with the support of faculty and peers who bring experience from a variety of disciplines.
Whether you pursue theory or practice, learn the skills and ways of thinking that graduate schools and employers value.
Bring order out of chaos. Get prepared for a life that matters.
Degrees offered: BA & BS
Major offered: Statistics Major (Concentration options: Data Science, Theoretical, Applied)
Minors offered: Statistics Minors, Statistical Methods Minor, Actuarial Science Minor
Approximate number of students pursuing one of these minors: 144
Number of majors represented in the statistics minor: 12
Number of full-time faculty in Statistics: 9
Departmental student organizations: Society of Actuaries at Truman State University, Mathematical Association of America, Kappa Mu Epsilon
Major Concentrations
Develop statistical reasoning and computation skills.
Data Science: Use Technology to Analyze Big Data
Understand fundamental ideas of information and data science.
Explore interdisciplinary connections to real-world applications.
Theoretical: Understand Theory Behind Statistics
Prepare for graduate school.
Learn the logic of statistics with foundations in mathematics.
Applied: Solve Problems in Data-driven Areas
Understand how data analysis solves real-world problems in applied areas.
Complement study in a wide range of other disciplines (e.g., Psychology, Biology, or Business).
Minors Offered
Make your major better by adding a minor!
Statistics Minor
Improve mathematical problem-solving abilities.
Statistical Methods Minor
Enhance data analysis skills.
Actuarial Science Minor
Prepare for a career in risk assessment.
Explore Outside the Classroom
Truman offers intense summer research with direct faculty mentoring. Statistics students have pursued research with Truman faculty in fields such as Mathematical Biology, Economics, Psychology, Exercise Science, and others.
Center for Applied Statistics and Evaluation (CASE): One of the few consulting centers in the nation staffed by undergraduates — work with clients on real problems in a consulting program.
Society of Actuaries at Truman: Belong to an actuarial organization.

Meet students interested in the profession.
Learn about requirements.
Prepare for professional exams.
Connect with prominent actuarial firms

Internships: Gain real world experience.
After the Degree
Pursuing a major in Statistics prepares you for graduate school as well as a range of careers in areas such as:
Actuarial Science
Agribusiness
Banking and Finance
Consumer Marketing
Data Science
Ecology & Environment
Economics
Environmental Sciences
Insurance
Medical Research
Medicine & Health
Politics & Government
Scientific Research
Sports
Teaching…and many more!