Kirksville Bike Co-op
Public university in the Midwest for 18 years running (U.S. News & World Report)
Kirksville Bike Co-op
The Kirksville Bike Co-op is a service and educational organization committed to community involvement through cultivating the development, use, and promotion of sustainable transportation. The keystone of our service hinges on providing a space where bike culture and knowledge is facilitated through both independent experimentation and collaborative hands-on discovery in a safe, supportive learning environment.
Educational Philosophy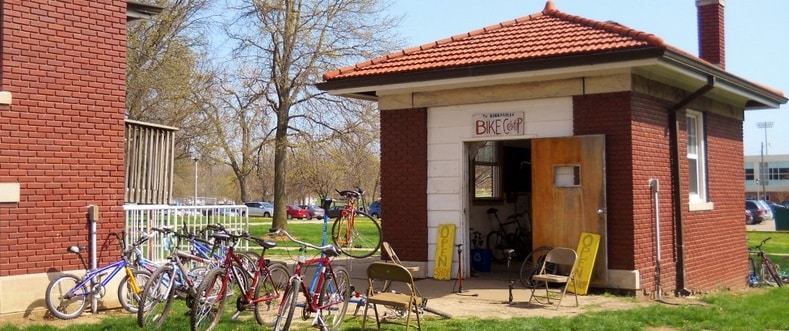 The Bike Co-op workshop is a place on the Truman campus where people of the community are invited to come and learn how to fix their bikes under the guidance of a trained mechanic. While a membership is required to aid in financing our operation, ensure based-line training on shop tools, and to enforce the membership contract, services are free and education is paramount. The Bike Co-op strives to fill an important niche in the Kirksville community by providing access to tools necessary to maintain bikes, affordable, high quality parts, and training in bike mechanics. The Co-op is both a resource and a service, creating a bridge between the University community and the greater Kirksville community in which it resides.
Through our progressive and relevant programming, we hope to:
Providing a space for work on and learn to repair bikes
Inspire people to ride bikes as a healthy and inexpensive alternative to petroleum-reliant transportation
Encourage healthy lifestyle choices and a respectful bike riding etiquette
Serve as a model for the region in community-centered education that benefits people and their environments
Encourage experimentation and hands-on learning
Involve local youth, especially by working in the shop and through summer and after school programming
We believe in allowing for flexibility in our annual programs, acknowledging endless possibilities, based on current needs, resources, and member interest, placing emphasis on variety and future growth. By keeping programs broad and varied, we hope to attract a diverse audience. We also look forward to tapping into local resources through sustained collaboration with university and community groups.
Membership
In order to use the workshop, you must become a member of the Co-Op. Membership is not required to rent a bike, but it is highly encouraged.
You can download PDFs of our membership and rental agreements by clicking the applicable link on the right-hand side of the page.
Our membership plans and rates (per semester) are:
Truman Student Membership: Free (so long as the co-op receives institutional funds)
Student (non-Truman)/Truman faculty Membership: $5
Community Membership: $10
Household/Family Membership: $20
Lifetime: $55
Meetings
During the semester, bike co-op will meet every Monday at 5:30pm in MG 2050.
Attending the co-op meeting is not required for membership, but it is highly encouraged! Great reasons for coming to the meetings include:
Get more involved – Interested in being a mechanic? Do you enjoy organizing events? Have a penchant for inventory management? … Whatever your expertise, if you want to do more with the co-op, we can find a place for you! (psst! scholarship workers! – meetings count toward your hours too!)
Share – Constructive criticism, creative ideas, it's all welcome here! The bike co-op exists for YOU, so let us know what you think!
Get to know us! – ever wondered who really is behind those kirksvillebikecoop@gmail.com emails? Well, here is how you find out!
Advisors: Alex Tetlak, Wolfgang Hoeschele, and  Carla Smith
Related links: