Field School at Cahokia Mounds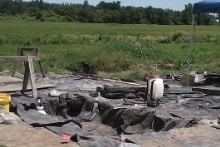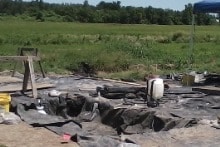 Anthropology major Rachel Kreher volunteered during the summer at Cahokia Mounds in Collinsville, Ill., a preserved prehistoric native civilization near St. Louis. Dr. John Kelly of Washington University-St. Louis opened two excavation sites, and Rachel spent a month working on the site pictured to the left.
She learned how to properly excavate, take elevation, screen, clean scrape, and map units. Rachel also learned how to use the Munsell chart to describe soil colors, take a FLOT sample to recover microscopic remains, and survey with a total station and prism.
Rachel washed artifacts and learned how to sort and inventory many different objects including types of stone, charcoal, charred botanical or bone remains, ochre, animal bone, chert, shell, ceramic, brick, and incised and/or punctated pottery.
She also attended a hands-on demonstration of flint -knapping and worked her own arrowheads.