Selecting a Major for Pre-Veterinary Studies
The two most popular majors for Truman students who plan to go to veterinary school are biology and agricultural science, but this does not mean that you have to choose either of these two majors. Remember, schools like diversity so choosing a different major may work in your favor. However, you must consider the time you want to spend on undergraduate work as it may be hard to complete the extra vet school requirements in four years if you choose a non-science major.
It should also be noted that it is not necessary to obtain a Bachelor's degree before going to vet school (it is possible to apply to vet school as long as the class requirements are met)— so if you finish the required courses in three years, you are still able to apply.
Biology or Agricultural Science?
Check out some students' perspectives on why they chose to pursue studies in biology or agricultural science.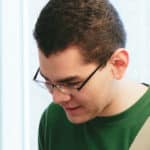 I love the easiness to get to know your professors and the resources that are available for students. It is easy to see the faculty's dedication toward the students' success, and I especially like that we are constantly challenged to be better.