Truman Trumpet students have great opportunities to work and perform with outstanding artists from across the country. Some previous guest artists and master classes include:
John Hagstrom, Chicago Symphony
Paul Merkelo, Principal Trumpet, Montreal Symphony Orchestra
Philip Smith, Principal Trumpet, New York Philharmonic
Principals of the St. Louis Symphony onstage in Powell Hall
Tage Larsen, Chicago Symphony
Axiom Brass Quintet
Randy Brecker, New York Jazz/Recording Artist
Davie Scott, New York Jazz Artist
David Bamonte, Portland Symphony Orchestra
Canadian Brass Quintet
Barbara Butler, Eastman School of Music, Rice University
Leonard Candelaria, University of North Texas
Allen Dean, Yale University, St. Louis Brass Quintet
Thomas Drake, Assistant Principal Trumpet, St. Louis Symphony
Jon Faddis, New York Recording Artist
Charles Geyer, Eastman School of Music, Rice University
The Summit Brass Ensemble
Tim Hagans, New York Jazz Artist
David Hickman, Arizona State University, Summit Brass
Clay Jenkins, Los Angeles Jazz Artist
Ryan Kisor, New York Jazz Artist
Ray Mase, Summit Brass
Andrew McCandless, Principal Trumpet, Dallas Symphony
Fred Mills, Canadian Brass
Jeffrey Piper, University of New Mexico
Ray Sasaki, University of Illinois, St. Louis Brass Quintet
Gary Schutza, Principal Trumpet, Kansas City Symphony
Eric Ewazen, Composer, Juilliard School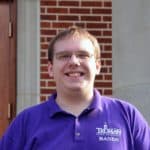 Truman is really the land of opportunity. If there is a project or idea that you want to pursue, all you have to do is reach out to students and faculty and the idea can become reality. I was able to collaborate on a variety of ventures from research projects, to starting new organizations, to finding internships, and even planned some travel experiences. Your imagination is the limit here!