Pursue Your Passion for Trumpet
If your passion is playing the trumpet, Truman offers you a wealth of performance experiences - including two wind symphonies, a concert band, marching band, symphony orchestra, three large jazz ensembles, brass choir, brass quintets, and jazz combos. Participation in these ensembles is based on audition and open to both music majors and non-majors.
You can also join the Truman Trumpet Ensemble - a premiere performing group that has appeared twice on the International Trumpet Guild Conference and at the Florida Trumpet Festival at Florida State University. Director Greg Jones served as director of the trumpet ensembles at the Eastman School of Music and the University of North Texas prior to coming to Truman. The group premieres new works by contemporary composers and allows trumpet students to play individualized parts in a variety of styles.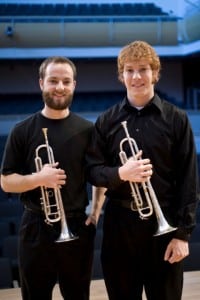 A Lively Community of Learners
Trumpet Ensemble rehearsals grow out of the weekly trumpet solo class that also includes seminars on performance anxiety, trumpet techniques, musical expression, and lots of chances to play for each other.
Each year, trumpet students work with guest artists who are leaders in the music profession, both in classical and jazz performance. These guests perform with Truman students, offering masterclasses and many opportunities for discussion and sharing of musical ideas. Past guest trumpet artists have included:
Philip Smith, Principal Trumpet of the New York Philharmonic
Barbara Butler and Charles Geyer, Northwestern University
Eric Ewazen, Composer, Juilliard School
For more information on the trumpet studio at Truman State University, contact Dr. Gregory Jones.