Saxophone Studio
Pursue Your Passion
As a saxophone student, Truman offers you a wide range of performing experiences – including two wind symphonies, concert band, marching band, saxophone quartets, two jazz ensembles, jazz combos and the annual Gold Medal Concerto Competition. Ensemble participation and music scholarships are based on audition and are open to both music majors and non-majors.
For more information, contact Dr. Randy Smith.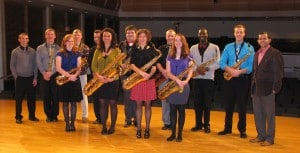 News
26 September 2016 | 3:17 pm

Truman State University Symphony Orchestra will feature guest soloist Giuseppe Bruno in their upcoming concert on Oct. 1, 2016. The free concert will take place at 8 p.m. in the Ophelia Parrish Performance Hall, and will feature a selection of carefully chosen pieces from Giuseppe Verdi, Boris Blacher, Wolfgang Amadeus Mozart and Maurice Ravel. Dr. […]

19 September 2016 | 2:13 pm

Truman musicians will perform newly composed works by Truman composers.  This hour-long concert will include music for a variety of groups: chamber choir, solo instruments, electronic music.
Calendar