Percussion Studio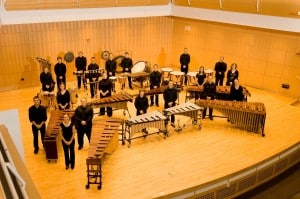 Pursue Your Passion
Truman's Percussion Program offers an outstanding environment for your professional development in performance, literature, and pedagogy. Among a very comprehensive inventory of percussion instruments and equipment, the practice studios and ensemble rehearsal spaces house approximately eight marimbas, three xylophones, three vibraphones, three sets of timpani, one electronic and three acoustic drum kits, as well as a full compliment of new Latin, Afro-Cuban, and African hand drumming instruments.
A Lively Community of Learners
Undergraduate and graduate studies in percussion are equally comprehensive, and include applied study and experience in solo and ensemble performance, as well as academic research in percussion pedagogy, history, and literature. You might join the Percussion Ensemble, Truman Percussion Society, and even march in the Indoor Marching Percussion or the Drumline of the Statesmen Marching Band. And a steady stream of renowned guest artists brings a world of expertise right to your doorstep.
For more information about the percussion studio at Truman, contact Dr. Michael Bump.
News
26 September 2016 | 3:17 pm

Truman State University Symphony Orchestra will feature guest soloist Giuseppe Bruno in their upcoming concert on Oct. 1, 2016. The free concert will take place at 8 p.m. in the Ophelia Parrish Performance Hall, and will feature a selection of carefully chosen pieces from Giuseppe Verdi, Boris Blacher, Wolfgang Amadeus Mozart and Maurice Ravel. Dr. […]

19 September 2016 | 2:13 pm

Truman musicians will perform newly composed works by Truman composers.  This hour-long concert will include music for a variety of groups: chamber choir, solo instruments, electronic music.
Calendar