Economics Undergraduate Research
value in the nation among public colleges & universities (Consumers Digest)
Undergraduate Research in Economics
Research projects give you the opportunity to focus intensely on a particular area of interest that might not be covered in depth in your classes. You'll also learn how to collaborate with faculty members and fellow researchers while developing an idea from start to finish.
Why Do Undergraduate Research
Undergraduate research allows Truman students to study a topic of personal interest to themselves with the mentoring assistance of one or more faculty members. This includes the possibility of studying topics beyond regular course offerings.
Undergraduate research can allow a student to distinguish themselves from others in the application process for graduate school or post-baccalaureate employment opportunities. Most Truman students who have landed post-baccalaureate employment at government agencies or think tanks have participated in undergraduate research.
Undergraduate research participation can yield opportunities for publications or presentations. Publications and presentations can be helpful in the application process for graduate school or employment and are also important determinants of receipt of Departmental Honors in Economics.
Some available undergraduate research opportunities, such as the TruScholar Program  and the Grants-in-Aid of Scholarship and Research Program provide funding opportunities for conducting such research.
Participating in undergraduate research facilitates opportunities for faculty members to get to know students better, which can lead to better advising and more personalized and detailed letters of recommendation.
How to Get Involved in Undergraduate Research
Students can sign up for individualized research opportunities for academic credit with a faculty member. In economics this is usually done by signing up for either ECON 486 – Readings in Economics or ECON 554 – Independent Studies: Economics. To sign up for either course, students should approach the faculty they wish to work with and negotiate the details of the topic to be studied and the work expectation for the individualized course. Special permission of the mentoring faculty member is necessary before students can sign up for either of these two courses.
Students interested in participating in undergraduate research should pay attention to announcements from the Office of Academic Affairs and posted in Truman Today campus newsletter regarding opportunities to participate in such programs as the TruScholar Program, the Grants-in-Aid of Scholarship and Research Program, the McNair Program, and the Student Research Conference.
Students interested in participating in undergraduate research should familiarize themselves with available outlets for publication or presentation of their research results.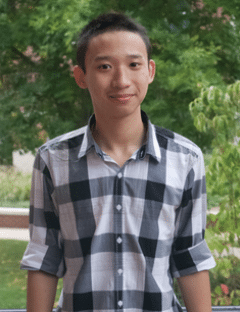 "The atmosphere at Truman is warm. People here are friendly and are willing to help you whenever you need it. Also, there are plenty of organizations available to help international students to make new friends, understand new cultures, and enjoy life in America."
– Anh Duc M., Mathematics & Economics, Vietnam