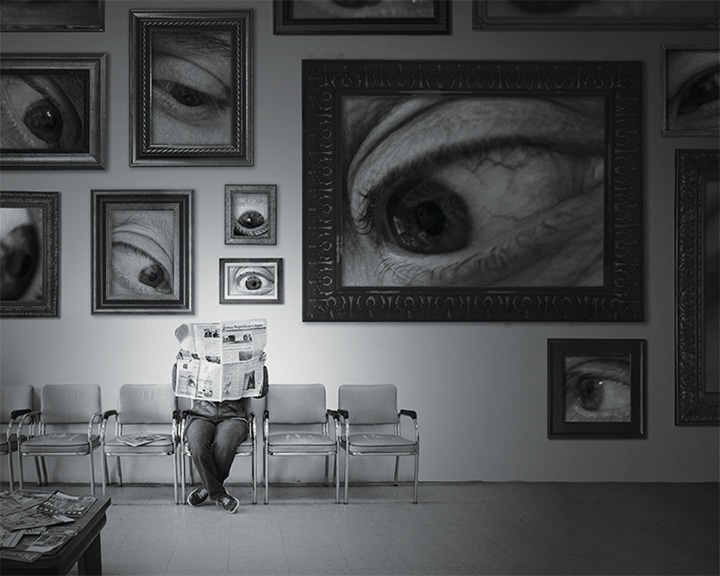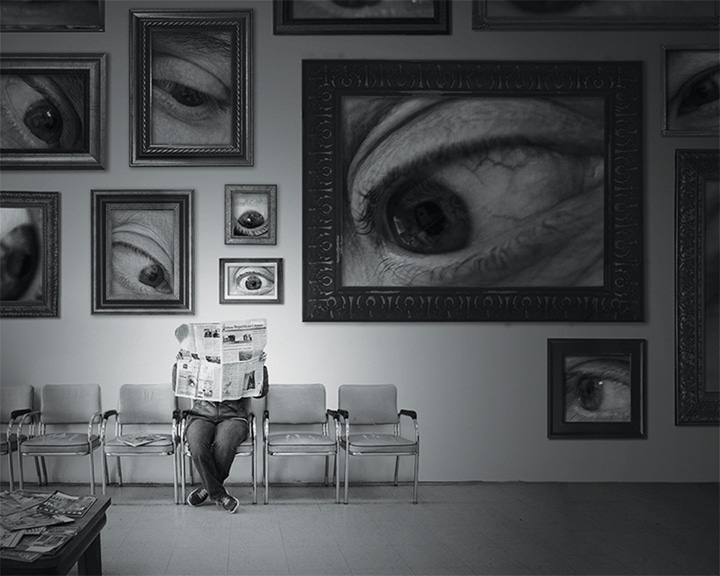 Joshua Fish: Digital Image Manipulation, Photoshop. Appearing in Creative Quarterly 48, Student Photography
BFA: Design Alumni: Reina Koyano
Great Careers and Jobs in the Graphic Design Field!
---
Design Program Information
Graphic Designer Education Requirements
---
A Bachelor of Fine Arts: Design (commonly known as graphic design, visual communications, or commercial art) allows you to apply your creative abilities towards careers in advertising, publishing, corporate in-house design, and the ever growing new media design market.
---
Not just markers, x-acto knives and mechanical boards… Graphic Design is considered a high tech, IT job.
Graphic Designer
source: http://www.itcareerfinder.com/it-careers/graphic-designer.html
Graphic Designers fuse creativity and technology to create visually engaging graphics that communicate a message.
If you're creative, have a good eye for color and composition, and love technology, then the graphic designer career path is for you. Graphic designers' duties vary widely and include designing web pages, laying out catalogs and newsletters, designing logos, marketing collateral and any other web, print and interactive materials your company or clients require.
The demand for well designed graphics – and skilled graphic designers – is at an all time high. From web design and multimedia advertising campaigns, to print publishing and package design, clients expect modern branding initiatives to increase sales and elevate their status. Self-employment opportunities are abundant for talented designers with entrepreneurial spirit. Contributing to graphic designer job growth is the omnipresent need for innovative web and multimedia designs, now that almost every business has a website and social media presence requiring eye-catching graphics.
While graphic design can be a fun job, a graphic designer career should not be taken lightly. To be a successful designer it's important to carefully construct your learning plan, continually advance your skills to keep pace with the latest digital design technologies, and build on your portfolio of work. Word of mouth and feedback from past employers typically plays into the decision to hire graphic designers, so reputation & quality of service are essential to long-term success.
Graphic design courses can help you unlock your natural talent and prepare you for a job you'll love. There are numerous graphic designer training programs and specialized college degrees featuring coursework in cutting-edge print and digital design techniques. Compare the top-rated graphic design courses & degrees in the U.S., Canada and online.
a.k.a. Graphic Artist | Digital Media Designer | Web Designer | Adobe Graphic Designer | Interactive Media Designer
---

You want to be creative and get paid to do it?
The Design program is where you prepare for such a career. The notion of the "starving artist" is an unfounded myth when you are a well-prepared and knowledgeable designer. Graphic Design demands that you possess the skills, outlook, and sensitivity of a fine artist, the technical knowledge of a computer science major, and the market savvy of a marketing major. Design is an inter-disciplinary area of study – a perfect fit for Truman's Liberal Arts and Science mission. A broad knowledge base in a range of topics inside and outside the major makes for a stronger designer. There is high demand in the design field for individuals who can think critically and problem-solve, who are creative, visual, technically savvy, and who are well-organized and efficient.
Preparing graphic designers for successful careers in the professional design field is the mission and goal of Truman State University's Design program.
---
Preparing for Lives That Matter
With a degree from Truman, you'll be in high demand for a variety of jobs in the design field. Graphic Design offers a broad range of professional career choices in the mass media, communications market. Our students have gone on to employment in advertising, marketing, television, publishing (newspaper, book, magazine,online), internet/ISP development organizations, corporate in-house design departments, entertainment industry and as self-employed designers throughout the region, the country and abroad.
---
Learn a wide range of skills
At Truman, you will explore your creative side by undertaking projects in corporate identity, using:
Print media design (posters, ads, books, brochures, magazines, etc.)
Typography design – layout and letterform
Advertising design
Web design
Package design
Illustration
Motion graphic design
Interface design
3D Modeling
Animation
Planetarium content development
Multimedia presentations
In the process, you'll also become proficient with sketching, pencil and marker comps, traditional illustration methods, and production art. By graduation, you'll be able to execute conceptually creative visual solutions, regardless of the media, for a broad range of design problems.
---
Use professional grade facilities & software
You'll use our dedicated computer lab equipped with Macintosh computers, scanners, graphic tablets, b/w and color laser printers, and large format inkjet printers – as well as a more traditional media studio for ink, dry media and gouache watercolor illustration techniques. You'll also become intimately familiar with the Adobe Creative Cloud, the professional-grade software in your courses, including Photoshop, InDesign, Illustrator, Acrobat Pro, Flash, Dreamweaver, Premier, and AfterEffects, as well as 3D modeling and animation software such as, Blender and Cinema 4D.
---
Top
Required technology for design concentration majors
Platform specifications:
Apple Macintosh or Windows PC with minimum 1TB hard drive and 16GB RAM and backup drive. Note: Laptops (Macs and PC's) seem to have a shorter lifespan than do desktop systems, so a 1 or 2 TB backup drive is highly recommended.
Peripherals: For graphic designers, there are many peripherals to consider – scanners, graphic drawing tablets, DLSR cameras, iPad/tablets, and large format printers. The Design program has tablets, printers and cameras for use by students and the department has a 20 station Mac computer lab with scanners for student use too. A design student can survive just fine without purchasing these peripherals as long as they are well organized, able to plan ahead, and have disposable income to pay for large-format printing.
Graphic Design and Art are expensive concentrations and purchasing materials, supplies, and printing is required and expected of students.
---
Top
Design class blogs
ART201 Design Software and Process
ART219 Illustration
ART220 Typography
ART320 Graphic Design-Visual Communications I
ART321 Graphic Design-Visual Communications II
ART337 Introduction to 3D Modeling, Motion and Animation
ART338 Intermediate 3D Modeling, Motion and Animation
ART420 Graphic Design-Visual Communications III
ART421 Graphic Design-Visual Communications IV
ART438 Advanced 3D Modeling, Motion and Animation
ART488 Capstone: Graphic Design-Visual Communications
---
See the Art Major & Minor FAQ for more info about the program. You may also be interested in our Art History, Design, Photography and Studio Art minor programs.
For information on events, alumni, faculty creative work and scholarship, and lots more, please visit the Art Department blog.
---
Top
Student Work Gallery
---
Top
Graphic Designer Job Outlook
Employment of graphic designers is expected to grow 13% from 2010 through 2020, as demand for creative professionals with digital media skills and training continues to increase. Graphic designers with web design and animation experience will be especially sought after as demand increases for design projects that utilize interactive media for websites, mobile applications, social networking hubs and other emerging technologies. Growth in Internet advertising, in particular, is expected to increase the number of job opportunities for graphic designers.
An Ad Agency hiring manager we consulted for this article confirms the Dept. of Labor's findings, advising new graphic designers to concentrate their learning plan on digital media skills, "especially courses in web design, rich media, and flash animation," as opposed to print. Print designers and illustrators will still be needed for projects like catalogs, direct mail campaigns, and promotional items, but the majority of job opportunities for new graphic designers resides in digital design mediums, and will remain so for years to come.
Source: U.S. Bureau of Labor Statistics' 2012-2013 Occupational Outlook Handbook
---
Top
Graphic Designer Skills Responsibilities
Typical daily activities and in-demand skill sets for graphic designers include the following:
Design websites, email and newsletter templates, and social media pages.
Plan layouts for magazines, brochures and other print publications.
Design corporate logos, business cards and company letterhead.
Make promotional displays, teasers and signs for public exhibitions.
Create banner ads and rich media marketing campaigns for web pages.
Work closely with Copywriters, Creative Directors, and Marketing Managers.
Are proficient in the digital media and design products in Adobe's Creative Suite,
e.g., Photoshop, Dreamweaver, Flash, InDesign, Illustrator, Encore and Acrobat.
source: http://www.itcareerfinder.com/it-careers/graphic-designer.html
---
Top
Graphic Designer Salary
Salaries for graphic designers and related positions:
Packaging Designer salary: $57,000
Graphic Designer salary: $57,000
Multimedia Designer salary: $64,000
Web Graphics Designer salary: $65,000
Interactive Graphics Designer salary: $67,000
Catalog Designer salary: $77,000
Graphic User Interface Designer salary: $83,000
Senior Art Director salary: $98,000
Source: Indeed.com
---
Top
Graphic Designer Education Requirements
An undergrad or graduate degree in graphic design, fine arts, multimedia production, or a similar field of study in the creative arts is required education for most graphic design positions. Hands-on graphic design experience is just as important – or more important depending on who you ask – so regardless of how you learn or where you train, be sure to keep a comprehensive portfolio of your best design projects, as this is how professional graphic designers showcase their work to prospective clients and employers. Because your design portfolio is a critical factor in getting hired, all of our featured graphic design degrees include dedicated courses and/or assistance in graphic designer portfolio & resume compilation.
As the demand for web and multimedia graphic designers continues to increase, colleges and private design schools are bolstering their degree and certificate programs with coursework in modern digital design topics, such as 3D computer animation, interactive media, web application design, and digital photography & image manipulation. Skills and expertise in the latest graphic design software is also vital, especially the Adobe Creative Suite, the most respected and widely used collection of graphic design programs. Prospective print designers should learn Adobe Illustrator, InDesign, Photoshop & Acrobat Pro, while web designers should focus on Adobe Photoshop, Dreamweaver, Flash & Fireworks.
source: http://www.itcareerfinder.com/it-careers/graphic-designer.html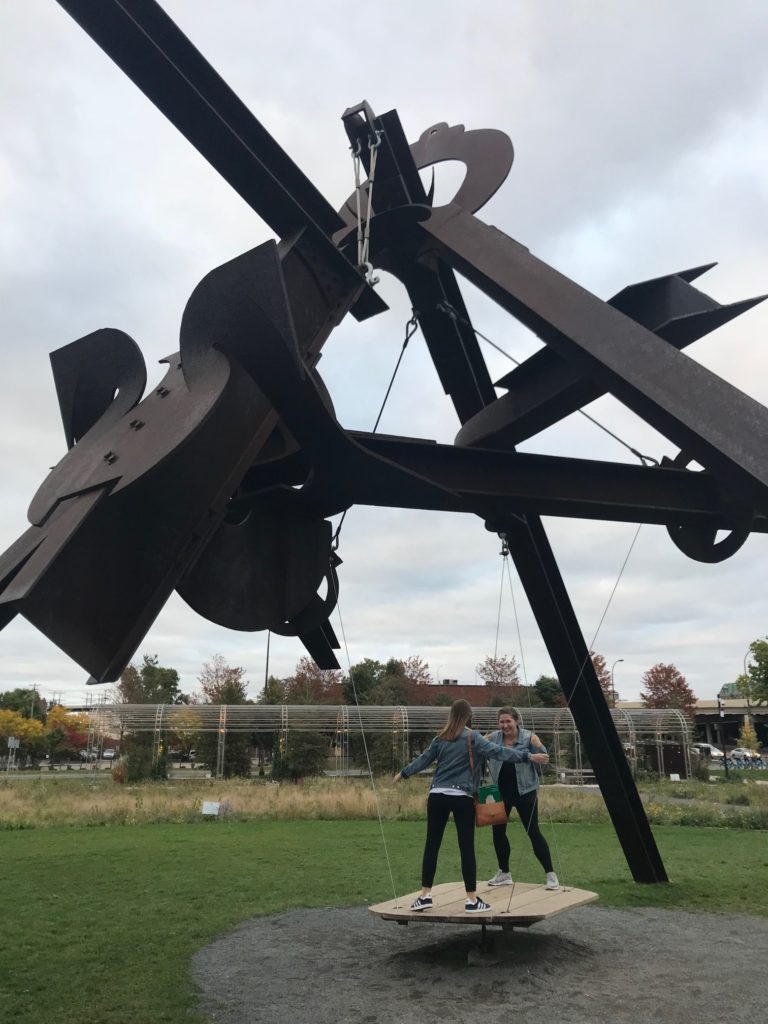 Art Bus: Encounters with Professional Practice
October 17, 2018
As of the fall of 2018 ll new Art majors will take a new class, designed to give them a taste of life as a working artist or art historian in a city setting. The "Art Bus: Encounters with Professional Practice" runs over a long weekend, allowing student to travel as a group to a…Read more Art Bus: Encounters with Professional Practice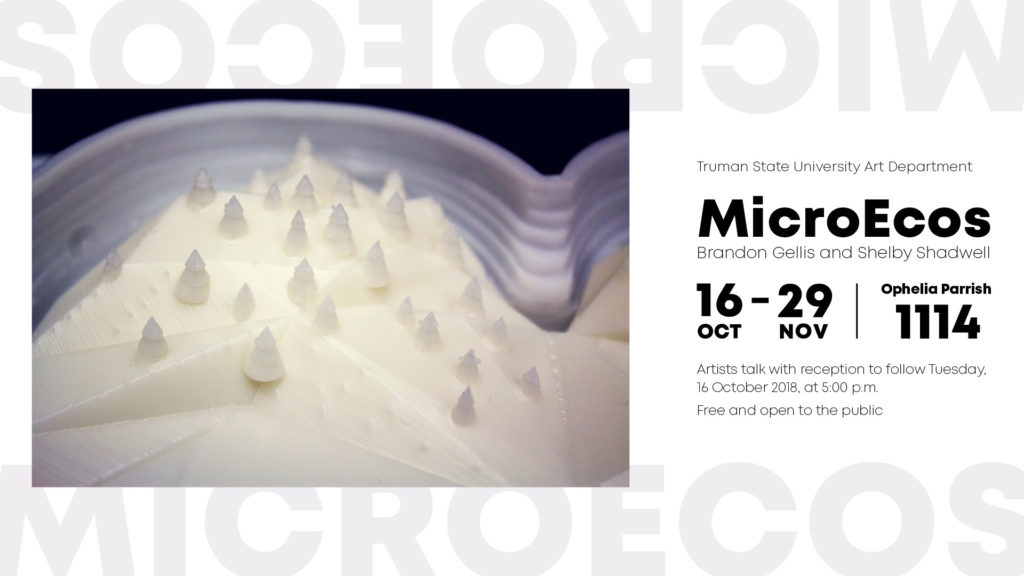 New Gallery Exhibition and Artists' Talk
October 16, 2018
Artists' Talk tonight!  October 16th, 5 pm, in the University Gallery, with reception to follow. We look forward to seeing you there.