Communication Disorders
Improving Lives by Improving Communication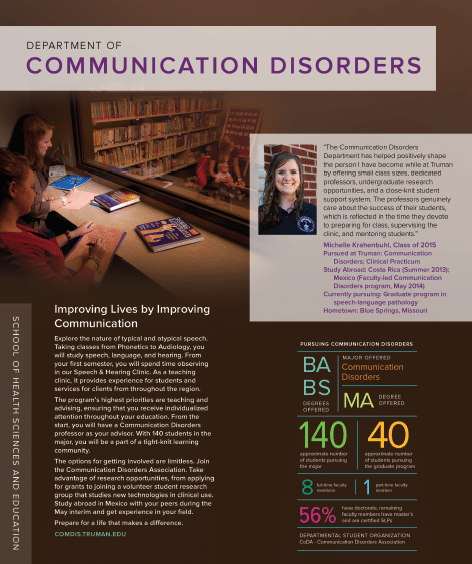 Explore the nature of typical and atypical speech. Taking classes from Phonetics to Audiology, you will study speech, language, and hearing. From your first semester, you will spend time observing in our Speech & Hearing Clinic. As a teaching clinic, it provides experience for students and services for clients from throughout the region.
The program's highest priorities are teaching and advising, ensuring that you receive individualized attention throughout your education. From the start, you will have a Communication Disorders professor as your advisor. With 140 students in the major, you will be a part of a tight-knit learning community.
The options for getting involved are limitless. Join the Communication Disorders Association. Take advantage of research opportunities, from applying for grants to joining a volunteer student research group that studies new technologies in clinical use. Study abroad in Mexico with your peers during the May interim and get experience in your field.
Prepare for a life that makes a difference.
---
Pursuing Communication Disorders
Degrees offered: Bachelor of Arts, Bachelor of Science, and Master of Arts
Major offered: Communication Disorders
Approximate number of students pursuing the major: 140
Approximate number of students pursuing the graduate program: 40
Full-time faculty: 8
Part-time faculty: 1
Percentage of faculty who have a doctorate: 56% (remaining faculty members have master's and are certified SLPs)
Departmental student organization: CoDA – Communication Disorders Association
Faculty
9 faculty members (8 full-time and 1 part-time)
 56% of faculty have doctorate degree; remaining 44% have a master's degree and are certified Speech Language Pathologists
Active within professional organizations
Curriculum
Bachelor of Arts and Bachelor of Science offered
Master of Arts in Communication Disorders
Clinic or non-clinic option as an undergraduate
Clinical Practice senior capstone option involves direct clinical experience with a client
Research
Explore the use of new technologies or the impact of early intervention in a faculty-led research group.
Pursue opportunities through undergraduate research stipends and the McNair Scholars program.
Present at Truman's annual Student Research Conference and professional meetings such as the Missouri Speech-Language-Hearing Association convention.
Study Abroad
Travel to Puerto Vallarta, Mexico with fellow students and professors during May interim. Work directly with children who have disabilities and reinforce your Spanish skills.
Truman grants you access to over 500 study abroad opportunities in more than 60 countries.
Facilities
The Speech and Hearing Clinic services are provided at no cost to individual clients. This clinic helps over 1,000 people per year within a large geographic area.
All therapy rooms have direct observation and video recording capabilities.
The extensive collection of clinical technology, assessment, and therapy materials is current and available for everyday use.
The Truman-RiteCare Early Literacy Lab provides extra opportunities to explore the speech-language-literacy connection.
Student Organizations
Communication Disorders Association (CoDA): Wanting additional preparation for your career? Join this pre-professional organization for those pursuing a degree in Communication Disorders.
After the Degree
85-90% of Communication Disorders students pursue graduate studies.
Join our excellent graduate program in speech-language pathology, leading to a Master's degree in Communication Disorders. Begin your transition to graduate study at Truman in the final semester of your senior year by taking a graduate course and clinical practicum or choose from a variety of excellent graduate programs across the country.
Find another calling if you like — other Communication Disorders alumni have pursued graduate study in education, other healthcare-related careers, and service professions like counseling.