As a business administration major at Truman, you learn how to succeed in virtually any area of business through a combination of rigorous coursework and learning opportunities outside of class, such as research, professional internships, and study abroad.
Business Savvy That Drives Success

Today's business world requires a sophisticated skill set. Our classes teach you how to manage people, time, money, and resources efficiently and effectively.  At Truman, you'll find a cooperative spirit as you work on group projects, form study groups, and collaborate with professors who care enough to learn your name. Truman's School of Business is among the elite group of schools accredited by AACSB International-The Association to Advance Collegiate Schools of Business, ensuring you're among a community of intellectuals who demand the highest standards in our business program.
Design Your Own Career Path

As a business administration major, you create an educational plan tailored to match your interests and career goals. Select the Bachelor of Science for a stronger emphasis in economics and math. Or pursue a Bachelor of Arts instead if you are interested in obtaining intermediate proficiency in a foreign language. You also have the option of focusing your studies with one of four concentrations:
And if you are not a business administration major, you can complement your degree and bolster your career potential by pursuing a minor in business administration.
Our Graduates Succeed

Our students consistently score in the top five percent on the Major Field Achievement Test in Business and are highly sought after by employers nationwide. Here are some of the places our graduates end up:
Boeing Company
Cerner Corporation
Deloitte
EY
Federal Reserve Banks
Many of our graduates go on to earn graduate or professional degrees. Some of the schools they attend include:
University of Missouri
Harvard University
London School of Economics
Massachusetts Institute of Technology

Follow the School of Business on: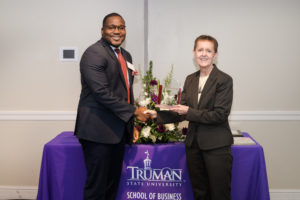 Amosu Named Young Alum of the Year
May 16, 2017
Ope Amosu is a Corporate Account Executive at GE, responsible for developing mutually-viable relationships between GE and each of the independent North American oil and gas operators. In conjunction, he leads the company's Oilfield Produced Water Treatment initiative. Ope is a 2010 graduate of Truman State University, earning a BA in Marketing. In 2014, he […]
The post Amosu Named Young Alum of the Year appeared first on Business blog.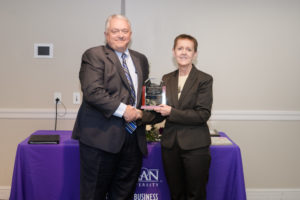 Wilson Named Alum of the Year
May 16, 2017
Tim is national industry partner for BKD National Construction & Real Estate Group.  He has more than 30 years of experience performing audit, accounting, tax and management consulting services in various industries.  He assists clients in the areas of business and strategic planning, operational and control reviews, mergers, acquisitions and consolidations, financial forecasts, feasibility studies, […]
The post Wilson Named Alum of the Year appeared first on Business blog.