Art History Major & Minor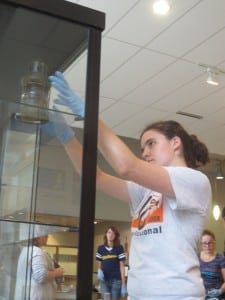 If you are interested primarily in the study of visual expression of the past, rather than the creation of new and innovative artworks, then the Art History major or minor is for you. Choose from:
---
Broad Liberal Arts Focus
You will learn about the monuments and principal artists of major art periods of the past, as well as gain a broad understanding of the art of the twentieth and twenty-first century. Art History focuses not only on the material aspects of cultural expression, but also how art reflects other aspects of society, including history, politics, religion, science, and technology.
You'll gain experience looking at art and thinking about the broader issues of the interaction between art and society, and the intersection of economics, religion, and science with visual expression and the built environment.
---
Learn by doing
All courses are taught through lecture and discussion with full professors (no grad students) and course assignments include exams, research writing, analytical and critical essays, presentations, and discussions.
But you'll also get your hands dirty in studio courses as well. This combination of historical study and practical application gets you "inside" the art process to develop a deeper understanding of art in all its aspects.
---
Preparing for Lives That Matter
Under the guidance of your mentors, you will be required to gain practical experience outside of the classroom, such as art conservation, gallery work, museum or gallery internships, archaeological work, or study abroad. Students graduating with this degree have pursued careers in many areas, such as public relations, museum administration, teaching, and a variety of jobs in the corporate and business worlds.
If graduate study is your goal, our graduates pursue work in Art History, Education, Library Studies, Art Conservation, and Arts Administration, to name a few.
See the Art Major & Minor FAQ for more info about the program. You may also be interested in our Visual Communication, Studio Art, or other art minor programs.
For information on events, alumni, faculty creative work and scholarship, and lots more, please visit the Art Department blog.
Incoming Student, Art Department Scholarship information and application
Art History Activities
News
28 November 2015 | 6:52 am

The last week of classes is always busy, but it is good to get out and enjoy looking at some art.  Fortunately, there are lots of opportunities this time of year.         Darrell Williams' B.F.A. thesis show will take place in the gallery November 30 to December 4. His show includes six large (4 x…Read more Art Exhibits and Receptions This Week

20 November 2015 | 5:52 am

Truman State University is on break during the week of Thanksgiving.  We wish you the happiest of holidays.  Travel safely, wherever you go, enjoy time with friends and family, and take care not to eat too much! We look forward to seeing you back here on November 30th.
Calendar