Master of Arts in Education 
Internship Opportunities
Department of Defense Internships
The DoDDS internship is a semester-long teaching internship option for Truman's Master of Arts in Education students. It is offered through a partnership with the Department of Defense Education Activity (DODEA) and allows MAE students to complete their internship requirement for the MAE program teaching children of military service men and women on military bases around the world, including bases in the United States.
This internship provides our students with a rich opportunity to experience many aspects of the professional and social worlds. Truman MAE student have the option to complete their internships in a different part of the world where they are able to interact daily with people from another culture. MAE Interns have completed internship experiences on different bases in Germany and Italy.
Interns are able to work with American children in classroom settings very similar to what they would find in the United States. A high level of support is provided to Truman students by Mentor Teachers and Truman MAE Faculty during their DoDDS internship experience.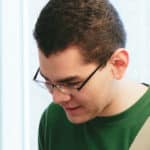 I love the easiness to get to know your professors and the resources that are available for students. It is easy to see the faculty's dedication toward the students' success, and I especially like that we are constantly challenged to be better.