Master of Arts in Education: Specialty Area Requirements
Special Education
A strong liberal arts and sciences baccalaureate degree with at least 2.75 cumulative undergraduate GPA (3.0 preferred)
Three letters of recommendations submitted
Personal statement regarding the desire and disposition to work with students with disabilities.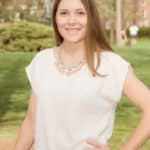 The Education Department at Truman is committed to its students.  My professors not only know my name, but also know me personally. They are always there to help guide me on my journey to becoming an educator.