Master of Arts in Education: Specialty Area Requirements
Secondary Science
Undergraduate GPA must be at least 2.5 in the major with a 3.0 GPA preferred.
Applicants must have significant pre-professional teaching experiences including some of the following: tutoring, substitute teaching, attending professional conferences and working with adolescents in sponsored programs.
At least one letter of recommendation must show the applicant's suitability to work with secondary-level school children.  One letter must be from a professor who can attest to the applicant's ability to be successful in graduate level science courses.
The personal statement must be written clearly and coherently indicating the applicant's ability to communicate via the written word.
Applicants may also be interviewed to provide clarification on any of the qualifications.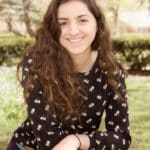 The approach to education at Truman focuses on teaching and learning as a reflective process rather than just an outcome. This shaped the approach I've taken to my own learning and how I want to approach my career as a science educator.