MAE: Foreign Language-French & Spanish
Master of Arts in Education: Specialty Area Requirements
Foreign Language-French & Spanish
Students must have a minimum 3.25 GPA in their language major (French, Spanish or Romance Languages) and demonstrate Intermediate-Mid proficiency (or above) on the ACTFL scale in the language they plan to teach. Students will normally take the STAMP web-based proficiency test, but may demonstrate proficiency through other faculty-approved proficiency assessments. Students should contact the MAE specialty director and arrange to take the proficiency test during the second semester of their junior year.
Students scoring below Intermediate-Mid should develop a language proficiency plan which may include additional coursework, study abroad, or independent study, and submit this plan for approval to the MAE specialty director.  The student must retake the assessment and score at the Intermediate-Mid level before applying for admission.
In addition, students must present at least one letter of recommendation from a faculty member (French or Spanish) for the language they plan to teach.  This letter should comment on the student's ability with the language, work habits and suitability for graduate study.  Ideally, the student should also show evidence of experience working with young people such as volunteer work, camps or tutoring.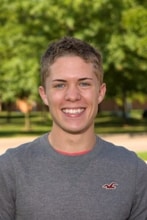 "The care and concern that my professors have for their students is the best part of classes here. They come to class every day truly excited to teach their subject."
– Christopher B., Music (Liberal Arts) & English Major