Master of Arts in Education: Specialty Area Requirements
Exercise Science
(Specialty Area Requirements in addition to the MAE requirements of three letters of recommendation and GRE scores submitted.)
Applicants must have a minimum 3.0 GPA in 15-hour specialty track courses within the Bachelor of Science major.
Personal statement should address motivation to become a physical educator and related current experiences.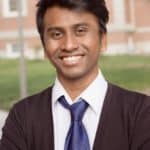 The hands-on approach to teaching is one of the best aspects in the Education Department at Truman. Thanks to my Education classes, I got the opportunity to know the rewarding feeling of teaching and working with students.