Master of Arts in Education: Admission Standards
Elementary Education
The Elementary Education Program welcomes applicants from any Bachelor of Science (BS) or Bachelor of Arts (BA) degree program offered at Truman State University with at least a 2.75 cumulative undergraduate GPA. Based upon national trends in elementary education, the faculty recommends BS or BA degrees in content areas (math, science, history, English, foreign language); however, all BS or BA degrees are eligible.
At least one letter of recommendation must demonstrate the individual's ability to work effectively with children in a classroom or related setting.  The candidate's personal statement must demonstrate the desire and disposition to be an elementary educator.
The candidate must have completed ED 393 Clinical Experiences in Teaching with a grade of B or higher and ED 394 Experience in Classroom Teaching with a P*. If the candidate is enrolled in ED393 and/or ED394* at the time of application, the application will be held until grade confirmation. Transfer students will be interviewed if they have not taken ED 393 and ED 394 prior to applying for admission.
Interviews for any applicant may take place at the discretion of the elementary faculty to provide clarification on any of the required qualifications.
*beginning fall 2013
Tips for Navigating the Elementary Admissions Process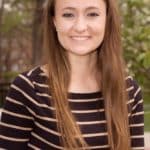 I chose to come to Truman to pursue my degree in education because I love the fact that I will leave with a Bachelor's degree in the field I wanted as well as the Master of Arts in Education – Elementary. I'm confident that this is going to prepare me for my future career and I am so thankful Truman offers such a wonderful program.