Upon completion of an Associate of Arts in teaching (AAT) degree from a two-year community college, such as Moberly Area Community College, St. Charles Community College, and St. Louis Community College, you can apply to Truman State University where you can pursue an undergraduate degree prior to entering our Master of Arts in education (MAE) program.
Your AAT degree will count for seven of Truman's required pre-MAE hours; this includes ED 388, ED 389, and ED 593. It does not cover ED 393 or ED 394 which must be completed at Truman to count toward our Master of Arts in education (MAE) degree. Other courses taken for the AAT degree may be transferable as elective credit; check with the certification analyst, Sheila Berkowitz to see which of your credits may transfer as electives.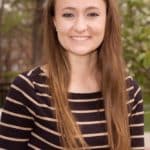 I chose to come to Truman to pursue my degree in education because I love the fact that I will leave with a Bachelor's degree in the field I wanted as well as the Master of Arts in Education – Elementary. I'm confident that this is going to prepare me for my future career and I am so thankful Truman offers such a wonderful program.