About the School of Social & Cultural Studies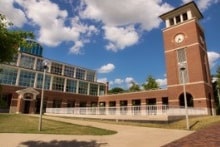 Home to nine departments, the School of Social and Cultural Studies at Truman offers a wide range of academic programs that provide a perfect fit for students who like to reach for the horizon and who want to make a difference in the world.
Highly motivated students in our School of Social and Cultural Studies explore the connections among individuals, societies, and the cultures we have created. They also consider the values and beliefs we hold, study ways in which we communicate, and examine the historical contexts that have given rise to the world in which we live.
The friendly faculty and staff in this active learning community are interested in helping intellectually curious students succeed. And our dedicated faculty members have expertise in a wide variety of areas across many disciplines in the social sciences and humanities. Characterized by their passion for what they teach, our professors eagerly share their high level of knowledge in their subjects.
News
29 June 2015 | 5:00 am

The Institute for Academic Outreach invites families of Truman faculty and staff to join 40 visiting Taiwanese high school students and their teachers for a picnic July 19 at the Thousand Hills State Park Point Shelter.

29 June 2015 | 5:00 am

Members of the Board of Governors made the unanimous decision during the closed session of the June meeting.
Calendar