About the Music Department
School of Arts and Letters: Music Department
The Music Department at Truman State University is fully accredited by the National Association of Schools of Music (since 1948) and offers an outstanding performance and academic background in the field of music, the opportunity to study private applied music with well-known artists/teachers, and the opportunity to participate in instrumental and choral ensembles with national reputations for excellence.
Mission
The Music Department will:
attract a promising and diverse group of high achieving musician scholars who will become part of an academically rigorous arts community;
provide challenging, comprehensive music instruction that will cultivate a depth of musical scholarship, pedagogy, and creative work within the breadth of a liberal arts context;
enhance the culture of the university and surrounding communities;
provide graduates with qualifications and experience to succeed professionally or in graduate study;
cultivate a nationally recognized community of students, faculty, and alumni.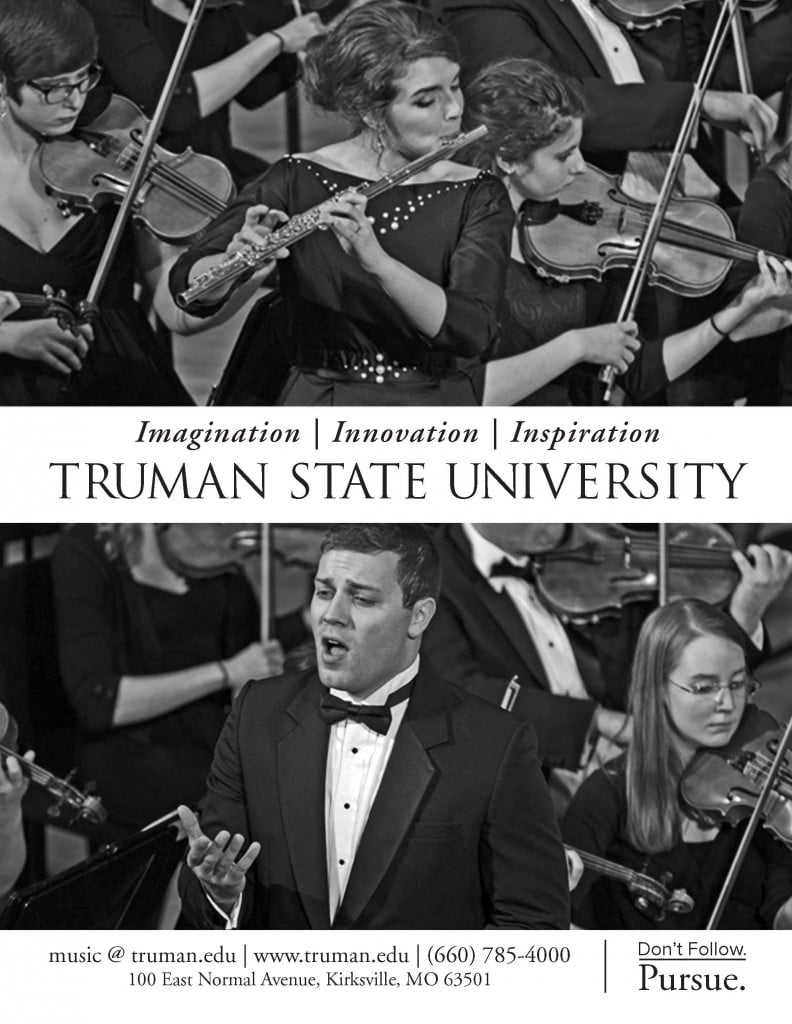 For More Information
News
26 September 2016 | 3:17 pm

Truman State University Symphony Orchestra will feature guest soloist Giuseppe Bruno in their upcoming concert on Oct. 1, 2016. The free concert will take place at 8 p.m. in the Ophelia Parrish Performance Hall, and will feature a selection of carefully chosen pieces from Giuseppe Verdi, Boris Blacher, Wolfgang Amadeus Mozart and Maurice Ravel. Dr. […]

19 September 2016 | 2:13 pm

Truman musicians will perform newly composed works by Truman composers.  This hour-long concert will include music for a variety of groups: chamber choir, solo instruments, electronic music.
Calendar