Master of Arts in Education
Program Philosophy
The Master of Arts in Education (MAE) program at Truman produces teachers of high quality. There are five tenets that are pillars for building teacher quality.
Strong Academically
Discipline Knowledge
Reflective Practitioner
Liberal Studies
Professional Preparation
First, our students are academically strong. Second, our students participate in liberal studies. Third, our students earn undergraduate degrees in a discipline that provide a depth of understanding. Fourth, the MAE provides excellent professional preparation (many field experiences, professional courses, advanced discipline courses, and capstone experiences). Fifth, our faculty strive to help preservice teachers become reflective practitioners believing that they can ensure student achievement.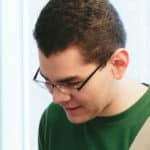 I love the easiness to get to know your professors and the resources that are available for students. It is easy to see the faculty's dedication toward the students' success, and I especially like that we are constantly challenged to be better.