Classical and Modern Languages Faculty-Led Study Abroad Programs
Truman students expand their learning communities across physical and cultural borders choosing from many exciting study-abroad destinations. Here are some study-abroad programs led or organized by Classical and Modern Languages faculty.
China
Join fellow Truman students for four weeks of Chinese language and culture study at the city campus of Shanghai University. Students attend class five hours a day from Monday to Friday. On weekends they tour the beautiful city of Shanghai, one of the world's premier business centers, and enjoy excursions to many sites in the Shanghai area. The program also includes 10 days of travel to numerous cultural and historic sites, including Beijing, the capital city of China; the Great Wall, one of the Seven New Wonders of the World; the Forbidden City, the Imperial Palace of the Ming Dynasty; and Xian, the home of the Terracotta Army.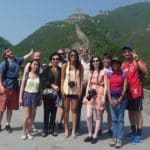 Students earn six Truman credits while experiencing ancient and modern China, improving their Chinese language skills, interacting with native speaker of Chinese on a daily basis, and gaining firsthand knowledge of the many changes affecting Chinese society. For more information, please contact Professor Julie Minn, jminn@truman.edu.
Costa Rica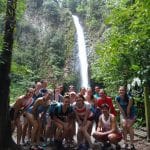 Enjoy a complete immersion experience! Each summer Spanish majors and minors have the opportunity to participate in an 8-week study-abroad program to Alajuela Costa Rica, located just outside the capital city of San José. Students live with Costa Rican families and experience Costa Rican culture and customs first-hand, while attending five hours of class each day, Monday through Thursday. Coursework includes language, culture, composition, conversation, and Latin American literature. On weekends, experience the beauty of Costa Rica by traveling to rain and cloud forests, sandy beaches, majestic volcanoes, sports and cultural events, and many other exciting sites.
Students earn 12 hours of 300-400 level credit. For more information, please contact Dr. Stacy Davis, sdavis@truman.edu  or Dr. Sergio Escobar, sescobar@truman.edu.
France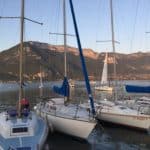 Travel to Annecy, France, for six exciting weeks of instruction in French language, literature, and culture. Offered jointly by Truman State University French faculty and faculty at the Institut Français des Alpes, this program is designed for students who have completed at least third-semester French. In addition to a pre-departure orientation at Truman and coursework at the IFALPES, including French Phonetics and Phonology, students will participate in everyday French life by living with a family, engaging in group cultural activities, and taking excursions to various parts of the Alps region.
Students earn six hours of Truman credit. For more information, please contact Dr. Tim Farley, tfarley@truman.edu.
Germany
Travel and study in Germany during the summer. Earn Truman credit as you visit sites of cultural and historical interest in Dusseldorf, Cologne and Aachen, including the Neanderthal Museum, the Germanic-Roman Museum, and  Charlemagne's palace and chapel. Open to students who have completed GERM 130 and 131.
Earn credit for GERM 326: German Culture in Germany. For more information, please contact Dr. Ernst Hintz, ehintz@truman.edu.
Mexico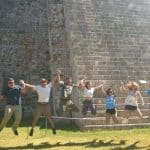 Spend New Years in Mexico!  Participants travel to Mérida, Mexico in the Yucatán Peninsula for two weeks during the winter interim for a full immersion experience in Spanish language and culture.  Designed for majors and minors who have completed Spanish Grammar and Composition, this program fosters development of oral skills and an understanding of culture through readings and conversation topics focused on Mexican and Yucatecan culture.  In addition to coursework, students live with a Mexican family, practice with native-speaker language partners, and travel to exciting cultural and historic sites such as Chichen Itza, Uxmal, and Tulum.
Students earn three hours of major/minor credit for SPAN 360, while experiencing the language, people and culture of the Yucatan. For more information, please contact Dr. José Carreño-Medina, jcarreno@truman.edu.
Spain

This eight-week program provides language, conversation, literature and cultural instruction at one of the most renowned language schools in Salamanca–Academia Mester. After a ten-week course of intensive preparation on the Truman campus, students travel to Spain where they visit Madrid and Toledo, then journey on to Andalusia for their first week in Spain. After visiting Seville, Granada and Cordova, they transfer to Salamanca to attend classes, live with Spanish families, travel to five more cities around Castile and Leon, and take part in many group activities for a period of six weeks (plus). Upon completion of coursework in Salamanca, students visit the region of Cantabria for several days, where they enjoy the sun-drenched beaches of Santander and visit a replica of the pre-historic caves in Altamira. Participants' total immersion in and interaction with Spanish society provides them with a truly intercultural perspective — one which focuses on cultural processes as they occur in particular historical, environmental, social, and political contexts. The resulting growth in life skills and language proficiency helps students thrive in the global community.
For more information, please contact Dr. Stacy  Bryant, sbryant@truman.edu, or Dr. José Carreño-Medina, jcarreno@truman.edu.
Other CML Study-Abroad Opportunities
Burgos, Spain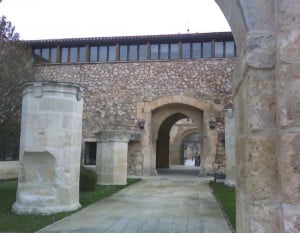 Located in historic Burgos in north-central Spain, the Universidad de Burgos offers students intensive language training and advanced Spanish content courses along with coursework in other fields of study. Surrounded by a gorgeous ancient provincial city in the heart of Old Castile, students are always in close proximity to cultural events. Burgos is only a short train or bus trip away from Spain's thriving capital, Madrid.  Students' Spanish level is determined by online evaluation prior to arrival in Spain. Prerequisites for Spanish majors and Romance Language majors participating in the exchange program include SPAN 362 and one 400-level Spanish course.  Pre-approval of coursework by the Spanish or ROML faculty is required prior to registration.  To submit a pre-approval form (available at http://wp-internal.truman.edu/cml/student-forms/), contact Dr. Juan Carlos Valencia at valenci@truman.edu  (Spanish majors)  or Dr. Óscar Sendón at osendon@truman.edu (ROML majors) .  You can visit the Center for International Education/Study Abroad website for more information about the Universidad de Burgos and course offerings.
Quetzaltenango, Guatemala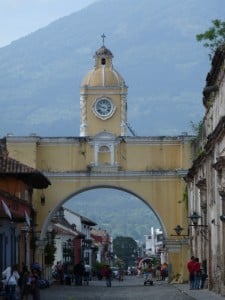 The Asociación Pop Wuj in Quetzaltenango, Guatemala, offers a six-week practicum experience for Truman students who are minoring in "Spanish for the Professions" and have a background in health professions. The goals of Pop Wuj's Medical Program are to increase the student's linguistic and cultural competency, while delivering health care in a compassionate and effective manner to the area's Hispanic and indigenous populations. To this end, students take four hours per day of individualized language instruction with a medical Spanish focus; complete a cultural component with lectures, films and discussion; and participate in a clinical experience in the Pop Wuj clinic 2-5 hours each day. Lodging is with Guatemalan families, who provide three meals per day.
Students earn 6 hours of credit toward the "Spanish for the Professions."  For more information, contact Dr.  Lucy F. Lee, llee@truman.edu.
Consortium Opportunities: Center for International Education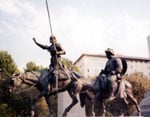 Through the Center for International Education Abroad at Truman, students may link up with a number of programs abroad in Spain and Latin America. These are in addition to the faculty-led and other programs organized by Classical and Modern Language faculty.  For details, contact Dr. Patrick Lecaque, Director, Center for International Education Abroad, 660.785.4076, email plecaque@truman.edu.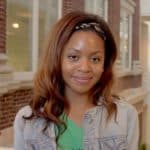 Costa Rica study abroad was an experience of a lifetime. Study abroad in Costa Rica was undoubtedly my most personally satisfying and most impacting experience here at Truman. I was completely immersed in the beautiful "tica" culture which I feel like is now part of my culture. I feel a deep connection with the country and culture of Costa Rica. I gained a family that I know will be there to welcome me whenever I return to Costa Rica.