Art Major & Minor FAQ
value in the nation among public colleges & universities (Consumers Digest 2015)
Do I need a portfolio to be an Art major?
There are no admissions or acceptance requirements to declare yourself as an Art History, Studio Art or Visual Communications major.
What's the process for getting my AP credit accepted?
The Registrar's Office has information on AP credit here. For Art, AP scores in the 3-5 range are counted as Art elective credit.
If you would like the AP credit to count toward a specific course for your degree, contact the Art Department Chair (Rusty Nelson) and submit the AP portfolio of work (the same work that you submitted for AP credit), your official scores, and a Request for Substitution for Credit form. Only 3 hours of AP credit can be substituted for ART101 Art Studio Foundations I. The art faculty will review the portfolio and approve the AP credit either for ART101 Art Studio Foundations or as ART elective credit depending upon the strength of the work. Please submit digital portfolios.
Can I double major within the Art department?
The BA: Art, BA: Art History and the BFA (with concentrations in Studio Art and Visual Communications) are the three distinct degrees within Art at Truman.
Allowed double majors in Art:
BA: Studio Art and BA: Art History
BA: Art and BFA: Studio Art (with two different studio specialties)
BA: Art and BFA: Visual Communications
How about an Art major and an Art minor?
BA: Art History majors can pursue a minor in Studio Art and Photography.
BA and BFA Studio Art and BFA: Visual Communications may pursue a minor in Art History and Photography.
Visual Communications FAQ
I can't draw! Do I have to take art classes to be a Visual Communications major?
Yes. Many incoming Visual Communications majors have taken no art classes in high school. They learned about design from working on the school newspaper or yearbook.
To address the varying range of art skills incoming students bring to Truman, we require all Visual Communications and Studio Art majors to complete the same foundation art classes before moving into the upper-level major classes. Visual Communications majors must understand and be able to use the same visual/creative principles and elements that studio artists use.
Not all graphic designers are great artists or illustrators, but all graphic designers will be expected to illustrate or create graphics used in their designs. Designs are not exclusively produced on a computer. Hand skills remain a vital means of creating graphics and illustrations that are digitized and brought into the computer layout.
Do I need my own computer?
No, but we encourage you to get your own as soon as possible. The Visual Communications lab is open daily until midnight. As a Visual Communications major, you will have full access to the facilities during the open hours.
Many students do have their own computers because it allows them flexibility and security. If you decide to purchase a system, we definitely recommend a Macintosh so that you will be familiar with the industry standard platform and also because you will be able to switch between home and the lab more easily. Also include in your equipment needs a digital SLR camera.
Do I need my own printer?
Not initially. But as with a personal computer, you'll find good benefits to having one as you progress through the program. The price for printing to the in-house printers is very economical in comparison to a professional output bureau, but purchasing a mid-range inkjet printer will be convenient for meeting last minute deadlines.
How can I add a Business minor?
Students must apply, meet the requirements, and be admitted into the Business minor. Minor applications can be picked up in the Business Academic Advising Center Violette Hall 2413.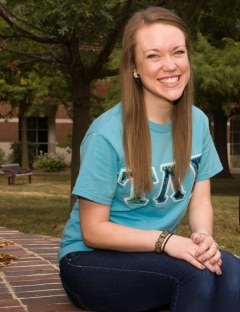 "I like how my visual communications classes focus on a variety of projects, all of which have real-world applications to the job I will soon have."
– Elizabeth W., Art Major