Art Gallery
value in the nation among public colleges & universities (Consumers Digest)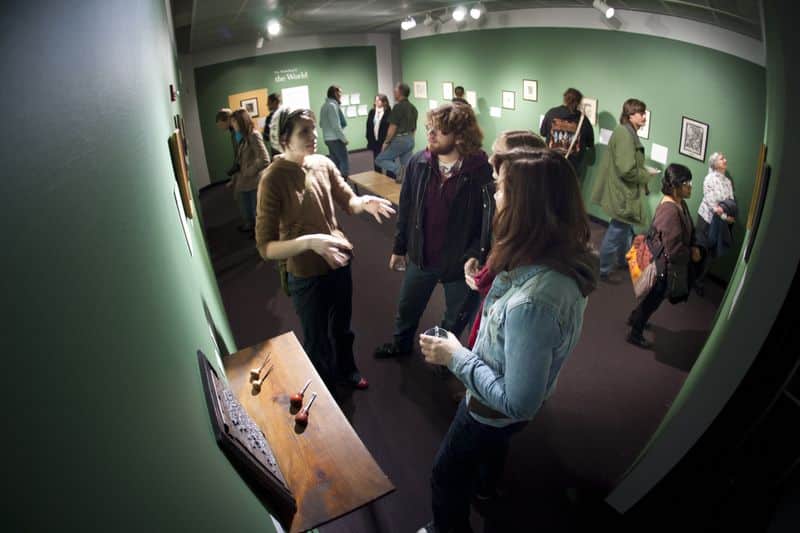 The University Art Gallery resides in the old gymnasium in Ophelia Parrish Hall. The beautiful renovation of this space makes for a stunning location for faculty, students and visiting artists to display their work.
#15forArt
One Work of Art
One Professor
Fifteen Minutes
Join fellow art lovers every other Thursday at 4:45 pm in the University Art Gallery, Ophelia Parrish building, room 1114.  For fifteen minutes, discover works of art created by or important to art faculty members.
SEPTEMBER 8 – Prof. Amanda Breitbach, Photography
SEPTEMBER 22 – Prof. Francine Fox, Drawing & Painting
OCTOBER 6 – Prof. Laura Bigger, Printmaking
OCTOBER 20 – Prof. Lindsey Dunnagan, Painting
NOVEMBER 3 – Prof. Aaron Neeley, Design
NOVEMBER 17 – Prof. Matthew Derezinski, Design
DECEMBER 1 – Prof. Wynne Wilbur, Ceramics
FEBRUARY 2 – Dr. Julia DeLancey, Art History
FEBRUARY 16 – Prof. Danielle Yakle, Sculpture & Fibers
MARCH 2 – Prof. Aaron Fine, Drawing
MARCH 23 – Prof. Heidi Cook, Art History
APRIL 6 – Dr. Sara Orel, Art History
Gallery Hours

Mondays – Thursdays 8:30 a.m. – 7:00 p.m.
Fridays 8:30 a.m. – 5:00 p.m.
Saturdays 12:00 Noon – 4:30 p.m.
Please note: the University Art Gallery is closed during all Truman State University breaks and holidays.
For more information about the Gallery and events, please visit the University Art Gallery blog.
Interim University Art Gallery Director
Prof. Heidi Cook
OP 1231
hcook@truman.edu
(660)785.4457