When you pursue studies in accounting or business administration in the School of Business at Truman State University, you acquire the knowledge and develop the skills to become successful leaders—and not just in business and industry. You will be well-prepared to make meaningful contributions to service organizations, governmental agencies, not-for-profits, and your community.
Relevant, Broad-based Programs
A core business curricula for all accounting and business administration majors provides breadth of knowledge, experience, perspectives, as well as skills you choose to develop as part of your liberal arts education.  To prepare you for the fast-paced, rapidly changing global economy, the School of Business offers several academic programs:
Accounting Programs:
Business Administration Programs:
Student-focused and Skills-based Mission
Our mission guides all we do – the students we recruit, the faculty we hire, the curricula we offer, and the experiences we provide. The School of Business graduates ethically-aware prospective business and civic leaders who are articulate communicators, effective team members, and skilled critical thinkers and problem solvers.
The School of Business cultivates a community of learners by emphasizing:
A rigorous, liberal arts and sciences educational foundation;
Highly selective admission of students;
Civic engagement;
Leadership development; and,
Experiential and applied learning activities to enhance student learning.
Demonstrated Excellence — AACSB Accredited

At Truman, you take classes with top-quality faculty and collaborate with high-caliber students who are curious and strive for success at all levels. You pursue a business education at one of only five percent of
business schools worldwide that have earned AACSB accreditation. AACSB schools must pass rigorous quality standards, and they have proved to provide the best in business education world.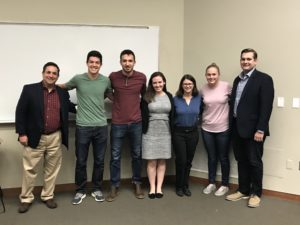 PwC Hosted Truman Challenge Competition
November 6, 2017
PwC hosted its Truman Challenge Competition on Thursday, November 2.  Fourteen teams proposed recommendations to an open-ended case study.  PwC Tax Partner Sal Montalbano and PwC Audit Manager Alex Koenen served as the judges.  The 1st place team members were Nicholas Poindexter, Chance Hill, Abby Lee, Ana Orozco, and Briley Anderson.  They each received $250 […]
The post PwC Hosted Truman Challenge Competition appeared first on Business blog.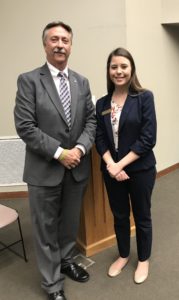 Students Celebrate Permission to Take Upper-Level Courses
October 31, 2017
  Students Celebrate Permission to Take Upper-Level Courses   The School of Business celebrated the approximately 90 students who were recently granted permission to enroll in upper-level ACCT and BSAD courses during the October 30 Bridge Ceremony.  These students had successfully completed prerequisite course requirements with the required GPA, submitted a resume, and developed their […]
The post Students Celebrate Permission to Take Upper-Level Courses appeared first on Business blog.
Follow the School of Business on: