School of Business: Accounting Department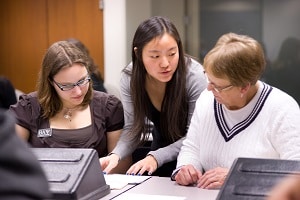 Cell phones, entrepreneurship, globalization, virtual organizations—these are hallmarks of the workplace accounting graduates will enter after graduation.
To succeed, accounting graduates need to be flexible; understand, synthesize, and communicate information from a variety of areas; and know how to harness the power of working in teams. And that is exactly what students learn when they study accounting at Truman State University.
Academic Programs
Accreditation


The undergraduate and graduate programs offered by the School of Business at Truman are accredited in both business and accounting by AACSB International – The Association to Advance Collegiate Schools of Business. These programs include: Bachelor of Arts and Bachelor of Science in Business Administration, Bachelor of Science in Accounting, and Master of Accountancy. Truman is one of fewer than 200 schools worldwide holding accreditation in both Business and Accounting.
AACSB is recognized by the Council on Postsecondary Accreditation and by the Office of Postsecondary Education, U.S. Department of Education, as a specialized accrediting agency for undergraduate and graduate programs in business administration and accounting.
Accounting Department Mission Statement
As a unit of the School of Business, the degree programs in the Accounting Department embrace the overall mission and objectives of the school. Building on a liberal arts and sciences education, accounting graduates will integrate analytical, research, communication, interpersonal and leadership skills with business and financial knowledge to be effective financial professionals and prospective leaders.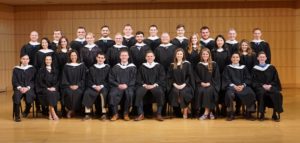 Master of Accountancy Students Receive Their Hoods
May 16, 2018
The Accounting Department faculty bestowed graduate hoods to Master of Accountancy graduates during a ceremony on Saturday, May 12.  Alumnus Derek Smith ('01, '02), a partner with BKD in Springfield, served as the keynote speaker.  Master of Accountancy graduate Ryan Bunselmeyer delivered remarks on behalf of the students.  The students celebrated graduation on Saturday, but […]
The post Master of Accountancy Students Receive Their Hoods appeared first on Business blog.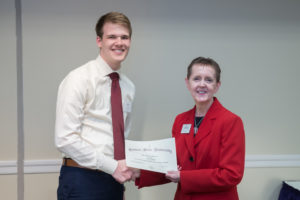 2017-2018 Outstanding Students Selected
May 10, 2018
The School of Business faculty selected the 2017-2018 Outstanding Students in each of the School's disciplinary areas.  The School recognized these students at the 18th Annual Recognition Dinner on April 28. Outstanding Student – Accounting (Undergraduate), Tim Hudson Outstanding Student – Accounting (Graduate), Natalie Ross Outstanding Student – Business Administration – Finance & International Business, […]
The post 2017-2018 Outstanding Students Selected appeared first on Business blog.