School of Business: Accounting Department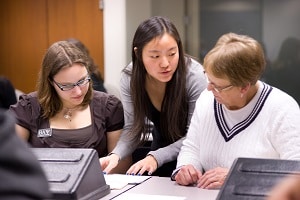 Cell phones, entrepreneurship, globalization, virtual organizations—these are hallmarks of the workplace accounting graduates will enter after graduation.
To succeed, accounting graduates need to be flexible; understand, synthesize, and communicate information from a variety of areas; and know how to harness the power of working in teams. And that is exactly what students learn when they study accounting at Truman State University.
Academic Programs
Accreditation


The undergraduate and graduate programs offered by the School of Business at Truman are accredited in both business and accounting by AACSB International – The Association to Advance Collegiate Schools of Business. These programs include: Bachelor of Arts and Bachelor of Science in Business Administration, Bachelor of Science in Accounting, and Master of Accountancy. Truman is one of fewer than 200 schools worldwide holding accreditation in both Business and Accounting.
AACSB is recognized by the Council on Postsecondary Accreditation and by the Office of Postsecondary Education, U.S. Department of Education, as a specialized accrediting agency for undergraduate and graduate programs in business administration and accounting.
Accounting Department Mission Statement
As a unit of the School of Business, the degree programs in the Accounting Department embrace the overall mission and objectives of the school. Building on a liberal arts and sciences education, accounting graduates will integrate analytical, research, communication, interpersonal and leadership skills with business and financial knowledge to be effective financial professionals and prospective leaders.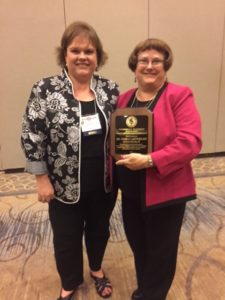 Cartwright Receives Award of Excellence
September 11, 2017
Debi Cartwright, Professor of Business Administration was selected as the recipient of the Professional Fraternity Association's 2017 Faculty Advisor Award of Excellence. The Central Office of Delta Sigma Pi, a member organization of the PFA, nominated Dr. Cartwright for the award. The award "recognizes a current faculty advisor for a campus-affiliated chapter of a Professional […]
The post Cartwright Receives Award of Excellence appeared first on Business blog.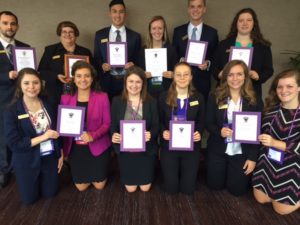 Delta Sigma Pi Wins Awards
August 23, 2017
Delta Sigma Pi held its 51st Grand Chapter Congress in New Orleans, August 16-20, 2017. Eleven students from the Truman State Iota Nu chapter and their Chapter Advisor, Dr. Debi Cartwright, attended the event. The Chapter won the following awards for their activities during the 2016-2017 academic year: Regional Awards: Gateway Region R. Nelson Mitchell […]
The post Delta Sigma Pi Wins Awards appeared first on Business blog.